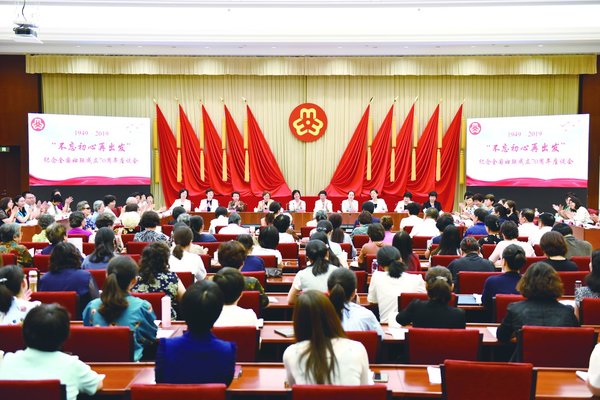 Members of the All-China Women's Federation (ACWF) meet to honor the 70th anniversary of the founding of the ACWF on July 11. [China Women's News]
The All-China Women's Federation (ACWF) held a symposium with the theme of Staying True to Our Missions — Commemorating the 70th Anniversary of the Founding of the All-China Women's Federation in Beijing on July 11.
Shen Yueyue, President of the ACWF, delivered a speech at the meeting. Huang Xiaowei, Secretary of the Leading Party Members' Group of the ACWF and Vice-President and First Member of the Secretariat of the ACWF, presided over the event.
Shen called on ACWF members to stay true to their missions and make contributions in the new era, under the guidance of Xi Jinping's Thought on Socialism with Chinese Characteristics for a New Era.
She stressed that the ACWF, a reliable anchor for Chinese women, is committed to protecting their rights and interests and promoting gender equality and women's all-round development.
She emphasized the importance of family work, and she hoped women's federations at all levels would focus more on family education and unite Chinese women in realizing the Chinese Dream of national rejuvenation.
Huang put forward four opinions on the ACWF's work in the new era. She hoped the ACWF would stay true to its missions in terms of political stance, pass on the mission while grasping the themes of the times, undertake the mission while fulfilling its duty, and carry out the reform of the ACWF.
Over 200 members of the ACWF attended the event.
(Source: China Women's News/Translated and edited by Women of China)