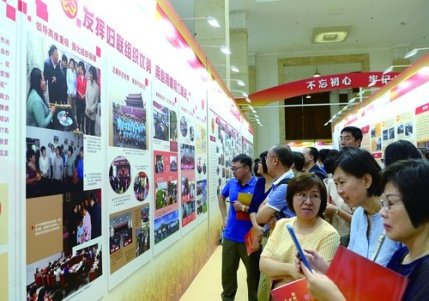 Visitors learn about the poverty-alleviation efforts made by the All-China Women's Federation at an exhibition on central and State organs' targeted poverty alleviation achievements held in Beijing, on Aug 17. [China Women's News]
The All-China Women's Federation (ACWF) displayed its poverty-alleviation efforts at an exhibition on central and State organs' targeted poverty alleviation achievements in Beijing, on August 17.
Since the 18th National Congress of the Communist Party of China in 2012, central and State organs have taken targeted poverty alleviation as a major political task and carried out practical actions to help 13 million impoverished people in 19,000 villages in 89 counties lift out of poverty.
The ACWF thoroughly studied and implemented General Secretary Xi Jinping's important speech on poverty alleviation and resolutely implemented the decision-making arrangements of the CPC Central Committee. It has made continuous efforts in poverty alleviation in Zhangxian and Xihe counties in Northwest China's Gansu Province.
So far, the ACWF has raised 50.04 million yuan (US $7.15 million) in capital and materials and sent 17 officials and 83 members of the poverty alleviation teams to work in the two countries. It has provided training sessions to more than 5,200 people and organized 7,227 officials of the women's federations to help 29,774 impoverished women from the two counties.
In addition, the ACWF has also established 51 poverty-alleviation bases and women's poverty-alleviation workshops to increase local women's income.
Artificial intelligence cervical cancer screening laboratories were established to offer free screening to more than 20,000 rural impoverished women.
"The ACWF has played an irreplaceable role in the targeted poverty alleviation campaign. My child can learn about the efforts of the women's federation in helping the two counties in terms of education, employment, healthcare and industrial development through the exhibition," said a visitor.
Cheng Xiangfeng, who worked at the China Women Travel Service, went to Xihe County for poverty relief work in May this year. He was a member of the 12th poverty-alleviation team organized by the ACWF.
"The ACWF has made great efforts to improve the local people's living conditions, especially in helping them solve the water-drinking problem. Some villagers used to walk far away to fetch water. Now every household has access to running water," Cheng said.
The exhibition also displayed pictures of women role models in all walks of life to show women's contributions in poverty alleviation.
(Source: China Women's News/Translated and edited by Women of China)