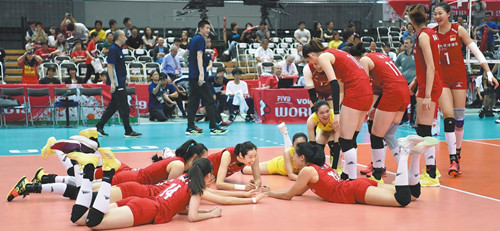 The Chinese women's volleyball team celebrates beating Argentina to complete an 11-match clean sweep at the FIVB Women's Volleyball World Cup in Japan. [Xinhua]
The All-China Women's Federation (ACWF) sent a congratulatory message to the Chinese women's volleyball team on September 30 after they won a resounding triumph at the 2019 FIVB World Cup in Japan.
On the occasion of the 70th anniversary of the founding of the People's Republic of China, the Chinese women's volleyball team won all 11 of their matches on the way to victory and capture of China's fifth World Cup gold medal, giving China the most championship titles in the history of the FIVB World Cup, said the congratulatory message.
The message added that the team has won a great honor for the country and the Chinese people, which is the most precious gift for the 70th birthday of New China.
In the message, the ACWF said the championship fully shows the spirit of solidarity and hard work of the women's volleyball team, reflecting the spirit of people who strive for dreams and success in the new era. The players are the pride of Chinese women and they will inspire Chinese people, including hundreds of millions of women, to continue their struggle for the great cause of socialism with Chinese characteristics. The ACWF said the women's volleyball team would surely keep General Secretary of the CPC Central Committee Xi Jinping's remarks in mind and retain high spirit in their struggle, be free from arrogance and rashness, and achieve good result again in the future.
The ACWF called on Chinese women to learn from the team members for their firm belief that they could win glory for the country and fearlessness of strong competitors, as well as their unity and cooperation and tenacious fighting spirit in striving to succeed.
The ACWF also called for practical actions by women that promote the spirit of the Chinese women's volleyball team in the new era and contribute to the Chinese dream of realizing the great rejuvenation of the Chinese nation.
(Source: China Women's News/Translated and edited by Women of China)