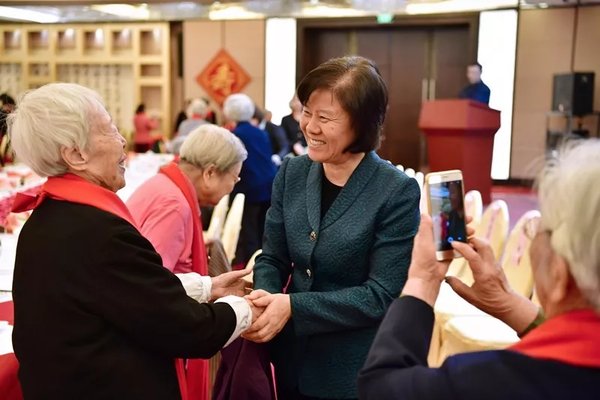 Shen Yueyue (C) greets retirees of the All-China Women's Federation. [Women of China]
The All-China Women's Federation (ACWF) held an activity for its retired elderly staff to celebrate the Month of Respect for the Elderly on October 15. October was designated as a month to show respect to the elderly in China in 2010.
Shen Yueyue, President of the ACWF and Huang Xiaowei, Secretary of the Leading Party Members' Group of the ACWF and Vice-President and First Member of the Secretariat of the ACWF, attended the activity.
Shen wished all the retirees a long and healthy life and a happy family. "We should fully implement the speech delivered by President Xi Jinping at the activity celebrating the 70th anniversary of the founding of the People's Republic of China and turn our love for the country and the spirit of struggle into real actions," Shen said.
Shen added the ACWF's elderly staff members' loyalty to the Party and their spirit of dedication to the people should be passed down, inspiring people to make new contributions in the new era. She presented flowers to eight retired staff of the ACWF to show her high respect for their great contributions to the development of the country and the work related to women and children.
Huang Xiaowei (C) talks with the retirees. [Women of China]
Huang said that Xi's speech at the celebration of the 70th anniversary of the founding of the PRC greatly encouraged people of all ethnic groups in the country, including the vast number of women. Under the guidance of the Communist Party of China, they would strive for the country's prosperity and the Chinese Dream of national rejuvenation.
Retirees were participants of China's revolution, construction and reform as well as contributors to the cause of women, Huang noted, saying that she hoped elderly staff members would stay true to the original aspiration and mission and continue to play their role in contributing positive energy to the Party and women's work.
She also urged the ACWF to further improve service for the retired staff members and help them enjoy happiness after retirement.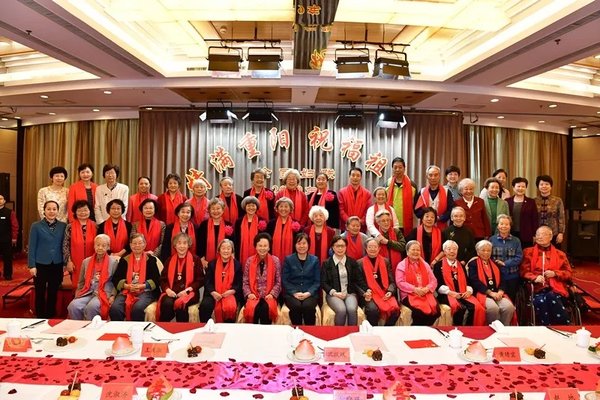 Leaders of the ACWF with the retirees [Women of China]
The retirees and the young staff members of the ACWF gave performances at the gathering.
Zhang Xiaolan, Vice-President and Member of the Secretariat of the ACWF, hosted the activity. ACWF officials and staff also attended the event.
(Women of China)