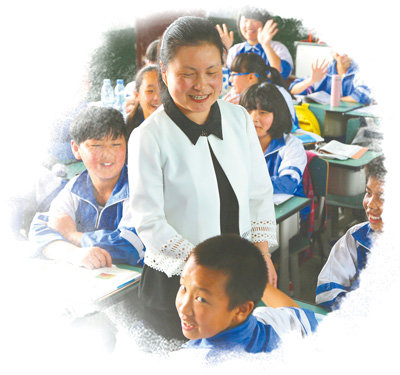 Liu Fang, a vision-impaired teacher from southwest China's Guizhou Province, interacts with her students in a class. [People's Daily/Li Naihua]
"Teacher, although you cannot see, you are really pretty," said students at a middle school in Guiyang, southwest China's Guizhou Province.
The teacher, Liu Fang, was diagnosed with retinal pigment degeneration at the age of 26 in 1997. From then on, her world was full of nothing but darkness.
After around six months of painful struggle, Liu was not overwhelmed by boundless darkness and agony. On the contrary, she chose to face reality and bravely fight against destiny.
Her vision impairment did not stop her great enthusiasm for teaching. The strong-minded woman used to listen to over 20 books each year using the MP3 player and the computer. Aside from this, she has recited all classical Chinese articles and key points taught during the three years of junior high school.
Due to her vision defect, a general teaching method is not suitable for her in class. Therefore, Liu has created her own unique teaching method which has greatly aroused students' interest in learning Chinese language.
Hard work pays off. Her students have achieved top scores in the national senior high school entrance examination for many years in a row.
In August 2007, Liu became a psychological counseling teacher. To improve the moral education of students, Liu played an active role in restarting the school's broadcasting station while cultivating young "broadcasters" by herself.
Meanwhile, she established a psychological consulting room, which was designed to help students solve problems in the course of their growth.
On the wall of the consulting room hangs a banner saying, "Despite not being able to see, we all know that your heart is bright."
Liu said, "I prefer being a 'garbage can', if students can feel relaxed and happy after telling me their growing pains."
(Source: People's Daily/Translated and edited by Women of China)