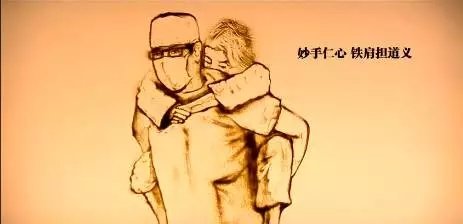 A sand painting video titled The Doctors recently went viral on social media in China. [People's Daily]
A sand painting video titled The Doctors recently went viral on social media in China, capturing the heart of thousands of viewers.
The original inspiration of Jiang Kaihua's video came from the experiences of his wife Zheng Er, a pediatric nurse at the Yinzhou People's Hospital in east China's Zhejiang Province.
Jiang feels the toughness of medical staff's work at first hand.
While most pregnant women take a well-earned rest at home, his pregnant wife needs to work at late night and take care of her patients. While other babies sleep safely in their mothers' arms, his son cries for mom who is on the late shift.
One day, Zheng was asked to remove the catheter for intravenous infusion from a boy patient because he wanted to go for a pee. She explained to the father that it was unsafe to do so while infusing antibiotics. The father got angry and slapped her, leaving her face red and swollen.
Since then, Jiang, who majored in fine arts, decided to make some pictures related to medical staff; and one week later, he finished creating a video based on a group of lifelike sand paintings.
When Jiang showed the artwork to his wife, Zheng was moved and posted it on her WeChat account. To her surprise, the video became an immediate hit, receiving countless thumbs-up.
Many netizens said, "Such a touching set of sand paintings!" and "Give a like to our angels in white!"
A doctor from the Yinzhou People's Hospital said, "While seeing the pictures, I cannot help but think of my family. Thanks for your understanding!"
In an interview, Jiang said that the sand painting video was made to gain more understanding for doctors and nurses. Since they work so hard, they need patients' support, he concluded.
(Source: People's Daily Online / Translated and edited by Women of China)