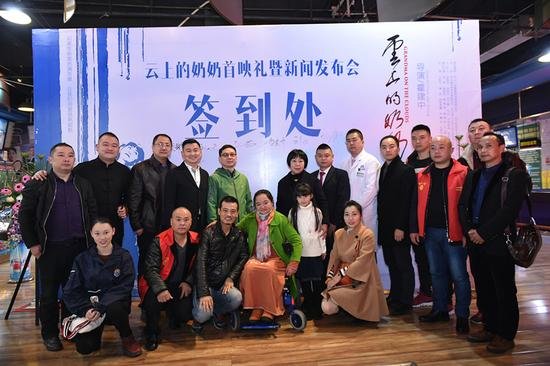 Chen Yuan (front, center) poses for a group photo with film producers of her autobiographical novel at the release ceremony on December 3. [ent.163.com]
With the official release of an autobiographical micro-movie entitled Grandma on the Clouds on December 3, the touching story of a 34-year-old woman with cerebral palsy from the city of Chengdu in southwest China's Sichuan Province and her late grandmother has become known to more people.
It was Chen's grandmother who raised her, taught her Chinese characters, and encouraged her to fight against difficulties in life.
The computer at her home gave Chen a channel to write her thoughts into concrete words when she was 16. After a while, she tried her best to start writing essays and poems. Her grandmother often gave her money and encouraged her to find her favorite books in a nearby library.
Three years later, the death of her grandmother was a heavy blow for Chen.
Under the encouragement and professional guidance of Zhang Danuo, a local kind-hearted figure, in 2009 Chen began to write about how she was raised by her grandmother over the span of twelve years.
It took Chen three years to complete her autobiographical novel Grandma on the Clouds, whose words totaled 130,000 in the final version. In fact, she had to rely on a single finger to accomplish the writing.
Apart from helping others learn more about the difficulties confronted by people with the same disease in their daily lives, Chen said that she intended to convey her deep gratitude to her grandmother for her decade-long love and care in the autobiographical novel.
With the support of an editor, Chen finally published her novel in 2014. Soon after, a director contacted her and proposed adapting it into a micro-movie.
The film director eventually gathered sufficient resources to start his shooting this June. At last, the film was released on the same day of the International Day of Disabled Persons.
Tears welled up in Chen's eyes when she watched the movie. She said, "To bravely continue with my future life is the best way to remember my late grandmother."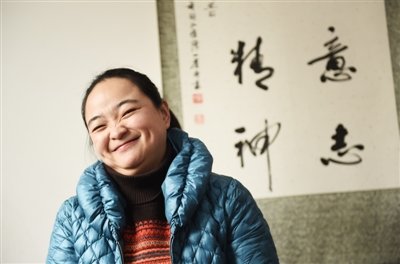 Chen Yuan gives a smile during an interview. [Chengdu.cn]
Chen Yuan continues with her writing in front of a computer at her home. [e.thecover.cn]
A scene from the micro-movie Grandma on the Clouds [ent.163.com]
(Source: chengdu.cn, ent.163.com/Translated and edited by Women of China)