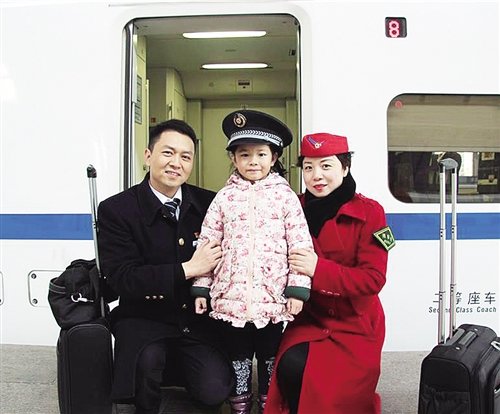 A family photo of Xiao Sanying (R), Chen Gang (L) and their daughter on a train platform in Wuhan [ce.cn]
A couple from the Wuhan branch of China Railway Group in central China's Hubei Province have written almost 20 letters to their daughter over the past three years to seek her permission for their frequent absence.
Xiao Sanying and her husband Chen Gang serve as captains of two different passenger trains from Wuhan, capital city of Hubei, to other places.
The first request for leave was written in 2016 amid the summer holiday travel rush.
Xiao received a call from the kindergarten at that time saying that her three-year-old daughter had a fever and needed to be taken home immediately.
She had to ask her parents-in-law to pick up the girl since both she and her husband were fulfilling their duties.
Xiao came home from work that night and sent her daughter to hospital for treatment. Quickly, the girl was diagnosed with an infection that made it difficult for her to drink water or sleep.
Nevertheless, Xiao and her husband continued their work as usual the next day. Thus the first letter came into being.
The couple's latest request for absence took place amid the Spring Festival travel rush this year.
Xiao and her husband planned to have their annual family reunion dinner in advance since they had no time to celebrate the occasion on Lunar New Year's Eve, which fell on February 15.
They settled on February 7, the only day when both of them were home. However, there was hardly any time to prepare a big reunion feast since Chen was going to work at 1:30 p.m. while Xiao was discharged of her mission at 10 a.m.
Xiao was summoned back to her workplace in the afternoon because a colleague suddenly became ill, though she had planned to take her daughter swimming.
The couple seldom talk with their daughter about setbacks and difficulties at the workplace when they are together. On the contrary, they often speak about how they have helped passengers aboard their trains.
Apart from telling their daughter why they cannot often stay with her at home, the couple have successfully integrated family education into their notes for leave whilst conveying their love for her.
(Source: ce.cn/Translated and edited by Women of China)