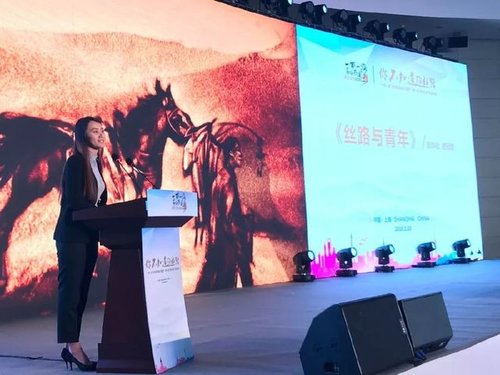 Cui Guannan gives a talk about her journey. [Xinhua]
To coincide with China's Belt and Road Initiative, Xinhua news agency and Volkswagen Shanghai recently organized a motorcade along the ancient Silk Road route, traveling through over 30 countries.
Cui Guannan, leader of the special tour group, said her journey was a cultural bridge to increase Chinese youth's knowledge about the world.
The Belt and Road Initiative, also known as the Silk Road Economic Belt and the 21st-century Maritime Silk Road, is a development strategy designed to promote connectivity and cooperation between Eurasian countries.
Having conquered extreme weather conditions including numbing cold and stifling heat, as well as the mental torment of loneliness and isolation, Cui's team developed more strength and solidarity to move forwards.
Tracing Chinese history back to the Han (202 B.C.-220 A.D.) and Tang dynasty (618-907), Cui said the prosperity of the Silk Road was closely related to ancient China's openness and economic growth.
In these two historical periods, China benefited from frequent exchanges and trade with neighboring countries, and consequently its people also yearned for the foreign culture and lifestyles.
Back in that time, holding the faith to promote Chinese culture and explore the unknown world, the youth of China included historical figures such as Zhang Qian (pioneer of the ancient Silk Road) and Xuanzang (hero of Journey to the West), who both set out on long journeys.
Comparably, Cui's motorcade demonstrated the younger generation's innovative and pioneering spirit.
During the travel, Cui and her companions experienced the novelty of exotic customs and landscapes, as well as China's burgeoning influence.
"Following the example of Xuanzang and Zhang Qian in ancient China, we encourage the youth to embrace a bigger world with open minds and to recreate the prosperity of the Silk Road," said Cui.
(Source: Xinhua/Translated and edited by Women of China)