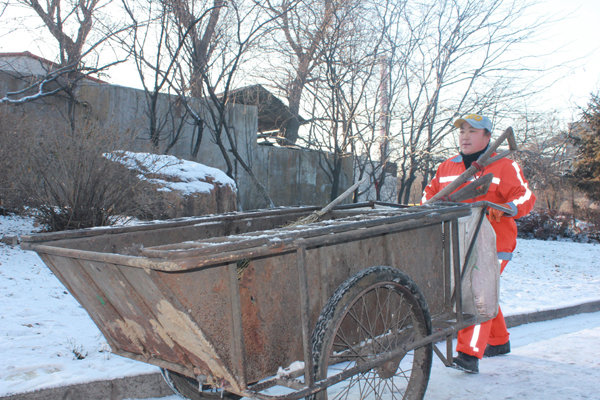 Zhuang Yan [gmw.cn]
Street cleaner Zhuang Yan from Northeast China's Liaoning Province, who is also a deputy to the National People's Congress, recently shared her experiences about her profession.
Zhuang is a cleaner from the Office of Environment and Sanitation in the Lishan District of Anshan, a city in Liaoning, where she began to work a decade ago.
Having worked in this demanding position for over a decade, she is used to her hands being rough and calloused.
"There are many scratches on my hands, and a deep one on my thumb from when I was hurt by broken glass," Zhuang said.
Although it is tiring, Zhuang still works with a positive attitude, and can talk about every detail to do with cleaning.
"For the litter that can easily be cleared, I use a shovel. However, I have to use my hands to pick up litter which is difficult to gather, including things that are sharp," Zhuang added.
Furthermore, Zhuang often volunteers to take over such areas that other people do not want to clear up. Every day, she inspects those areas more frequently than others.
"For me, I think it is a meaningful job to work as a cleaner, so I keep it up. Now, I have been elected as a deputy to the NPC, I can do something within my capability for China's development," Zhuang added.
In addition to performing well in her own position, Zhuang always thinks about how to improve exercises regarding her responsibility as an NPC deputy.
Working as a road cleaner, Zhuang has paid much attention to garbage recycling and its classification and utilization.
(Source: zaker.com/Translated and edited by Women of China)