Han Moyan [Women Voice]
Recently, on the stage at the Chinese Poetry Competition, contestants Han Moyan and Li Gun particularly attracted viewers' attention with their profound cultural accumulation.
Han Moyan, a freshman of Sichuan University's Literature and Journalism College in Southwest China, drew much applause with her outstanding performance in the "Wordplay" section during the contest.
Han is in the youth team with many competitive contestants. However, she won first place twice, which demonstrated her excellent cultural foundation of poetry. In the last final of the season, Han, who was participating in the competition for the first time, won third place with her strong poetry reserve and good psychological qualities.
Han began reciting poetry when she was three, she also read many articles about poetry in her spare time. She said: "I am extremely proud to participate in this feast of traditional culture as a student from Sichuan University." She also indicated that with the guidance of her tutors, she would continue to improve her cultivation of literary poetry and strive to be a guardian and practitioner of outstanding traditional Chinese culture and to bear the historical responsibilities that young students in the new era should bear.
In Han's view, "Ancient poetry and all the excellent Chinese traditional cultures could provide people with spiritual support, as they are extremely rich with the ability to nourish people's temperament. Poetry can be taken as superfluous in front of the utilitarian reality, but life is not all about what you're doing day-to-day. After all, material objects can only treat your body well, whilst the spirit can nourish your heart."
Li Gun, another contestant, who is a professor of aerospace science from the University of Electronic Science and Technology of China (UESTC) also gave a terrific performance on the stage.
Li comes from a remote rural village in Jingning County, Pingliang City, Northwest China's Gansu Province. Although he studied science, he was always a literary enthusiast. After graduating from junior high school, he was admitted to Pingliang Normal School and usually lived in the school's library. With 200,000 books around him for as long as he liked, Li basically read them all.
In life's hardship, Li did not grumble about his fate, but bravely faced the thorns on the road to his dreams, because he believed that, "April showers bring the May flowers", according to Chinese poetry.
In 2007, after obtaining his doctorate in science from the Graduate School of the Chinese Academy of Sciences, Li worked at the UESTC and devoted himself to scientific research. In recent years, he has won second prize for the Shaanxi Provincial Science and Technology Progress Award and three patents. He has presided over and participated in more than 20 national 863 projects and many scientific research projects such as the National Natural Science Foundation of China, and published more than thirty academic papers in the Physics of Plasma and other journals.
Dong Qing, a famous CCTV hostess, who is widely associated with the image of an intellectual women, commented that Li's experience was inspiring. "I think everyone on the road to accomplishing their dreams needs such perseverance and spirit like his," said Dong.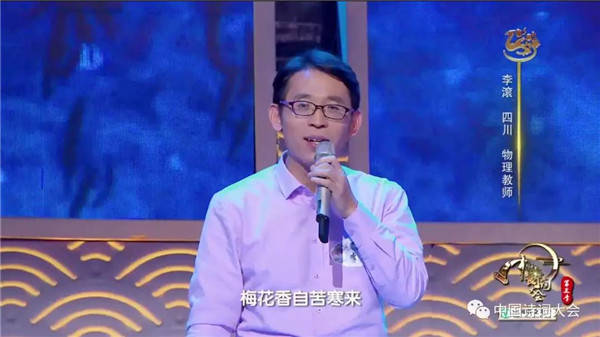 Li Gun [Women Voice]
(Source: Women Voice/Translated and edited by Women of China)