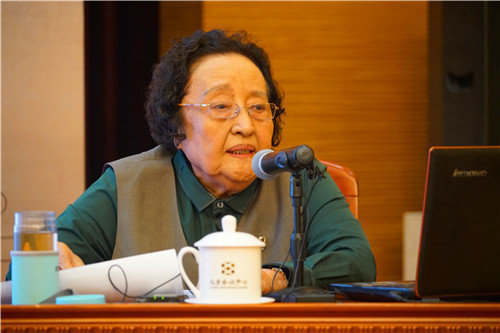 Chinese medicine expert Chai Songyan [Xinhua]
Chinese medicine expert Chai Songyan, 88, shared her thoughts and experience in treatment of gynecological diseases at a ceremony in Beijing on May 11 for the opening of her new clinic.
The clinic is committed to preserving the academic thoughts of Chai and other traditional Chinese medicine (TCM) experts and the construction of a talents' team.
Chai, 88, won the title of Chinese Medicine Master in 2017. She used to study at the first national training class for TCM Specialists in Beijing Medical College.
Her teacher was Chen Shenwu, who is a master of modern typhoid treatment.
Liu Qingquan, president of the Beijing Hospital of TCM, said the establishment of Chai's new office will serve the purpose of "promoting Chinese medicine research and passing down the theories of medical practitioners."
At the ceremony, Chai said that nowadays females live a challenging life. Not only do they have physical burdens but they also have to take care of their families, and participate in competitions in workplace.
That is why there are more illnesses affecting women, said Chai.
Chai said polycystic ovary syndrome (PCOS) in women of childbearing age is the most complicated research subject in the gynecology at present, the causes of which have not yet been fully elucidated.
One in 10 women of childbearing age may have the disease, added Chai. Furthermore, the incidence rate continues to rise.
Chai, who has been engaged in medical work for nearly 70 years, said, "The clinical symptoms of PCOS are diverse. It can only be recognized based on the main symptoms and objective findings."
To find a treatment for the disease, the use of the basic theories and system of TCM is her fundamental guiding principle.
Chai has summed up her experience over 70 years and instructed her students to compile the Chai Songyan's Chinese Medicine Gynecological Essence Series. There are 10 books in the series with detailed descriptions based on Chai's experience.
Through lectures, ward visits, and clinical teaching, she has trained many gynecologists and a national-level team that is renowned in the industry.
(Source: Xinhua/Translated and edited by Women of China)