Zhang Ruiqi from Jincai High School delivers a speech. [China Daily]
A total of 24 contestants told their China stories during the finals of the Shanghai High School Students Future Speaker Contest over the weekend.
Selected from about 5,000 candidates of 300 middle schools in 16 districts of Shanghai, the 24 students showed their passion and skills when they delivered their speeches based on the theme of "telling the China story to the world".
Their topics ranged from the Belt and Road Initiative to the beauty of traditional Chinese costumes, to China's education reform and the high-speed railway. Hundreds of audiences, including more than 30 overseas students, attended the event.
The contest was co-organized by the China Communist Youth League Shanghai Committee, the Shanghai Municipal Education Commission, the Shanghai Students' Federation and the Shanghai University of Finance and Economics.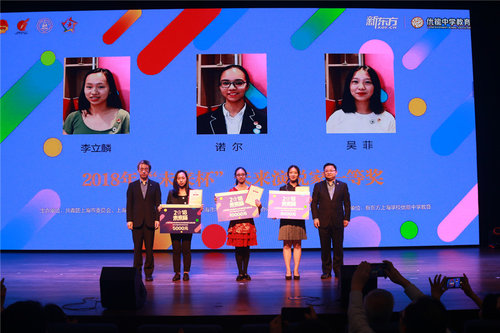 Three first prize winners take a group photo with guests. [China Daily]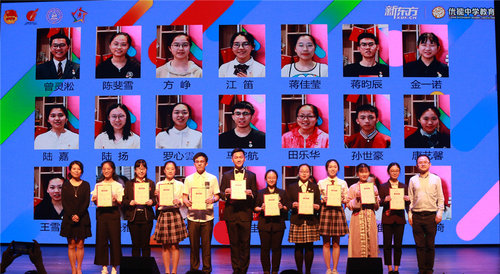 Second prize winners take a group photo with guests. [China Daily]
(Source: China Daily)