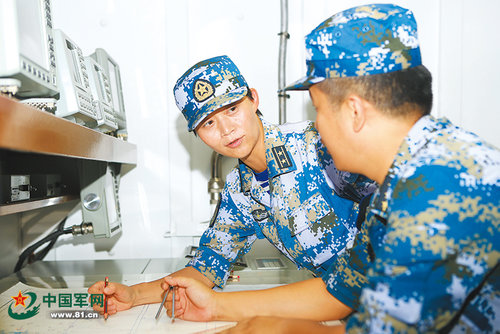 Wei Huixiao, an intern captain of a Zhengzhou missile destroyer, studies an attack plan at a chart room. [Photo/ 81.cn]
Wei Huixiao, 40, is expected to become the country's first female navy captain after enlisting more than six years ago, the PLA Daily reported.
Wei is now making preparations for an all-around assessment training for captains and "only one step away from being the PLA Navy's first female captain," the report read.
Wei joined the navy right after earning a doctoral degree in geoscience in February 2012 from Sun Yat-sen University in Guangdong province, becoming a member of China's first aircraft carrier Liaoning. That October, she became the marine department's first female deputy director.
Wei studied at the PLA Dalian Naval Academy for navigation command and naval tactical command starting in August 2012, acquiring a bachelor's degree in military science.
Wei became deputy captain of the Changchun destroyer in March 2016, the first female deputy captain in PLA Navy history, after passing the assessment.
Wei was appointed intern captain of a Zhengzhou missile destroyer under the East China Sea Fleet in September 2017.
Wei, a Party member, was born in November in 1977 and is from Baise, Guangxi Zhuang autonomous region, an old revolutionary base.
Wei also has a bachelor's degree in atmospheric sciences from Nanjing University.
Before joining the navy, Wei worked at telecommunications giant Huawei, and volunteered in the 2008 Beijing Olympic Games and as a teacher in the Tibet autonomous region.
Wei Huixiao, an intern captain of a Zhengzhou missile destroyer. [File photo/ tv.81.cn]
(Source: China Daily)