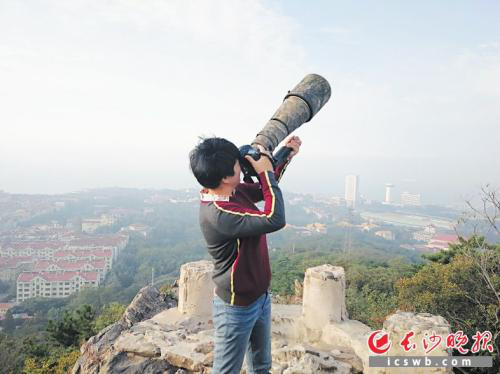 Xiao Huiyue photographs migratory birds on top of a mountain. [Xinhua]
A female nature enthusiast from Ningxiang City, central China's Hunan Province has taken photographs of over 800 different birds since she became interested in the topic many years ago.
Xiao Huiyue has been hailed by her peers as "Bird-woman" in Hunan.
The bird that first interested Xiao was the egret. "Once, when I returned to my hometown, I saw a group of egrets in a field. They were so beautiful that I wanted to take a picture of them," Xiao remembers.
After that, she participated in a bird-watching event organized by the Wildlife Conservation Organization of Changsha and started her bird-shooting career.
Birds are highly sensitive, so it is difficult to take moving pictures without disturbing them. Xiao said that anyone photographing birds should have good hearing as well as sharp eyesight.
"In general, I listen for birds first, locate them roughly, and then use binoculars to observe, confirm their position and finally use the camera to shoot," said Xiao.
After she captured almost all the birds in her hometown, Xiao began to look for birds nationwide. She even climbed the four plateaus in China, and reached a maximum altitude of more than 5,400 meters above sea level, sometimes alone.
At present, Xiao can accurately remember the names, sounds, and habits of nearly every species she has shot.
The harsh living environment has brought her mosquito bites, altitude sickness, sleep deprivation and hunger, the nearly 10 kilograms of photographic equipment all test her stamina.
Sometimes, unexpected accidents have even made her experience a brush with death.
"Every time I finish shooting, I would say to myself, 'It's too dangerous to go any more.' And yet, as long as I hear there are rare birds somewhere, I would go all the way," Xiao said.
The most beautiful scenery, Xiao said, was always hidden in the most dangerous places. After experiencing many ups and downs, she has preserved quite many precious pictures she had shot.
Meanwhile, having been with birds for a long time, she has developed a sense of responsibility to protect birds naturally.
Xiao said that she held a deep respect for birds, therefore she is never tempted to interfere with them.
If she saw someone attacking birds, she would stop it immediately, and would tear down any net designed to catch birds.
Once upon a time, Xiao met two bird-hunters while watching birds in Xuanwu Lake, Nanjing, east China's Jiangsu Province. She quickly picked up the camera and photographed them.
Unexpectedly, one of the bird-hunters pointed his shotgun at her. At that time, Xiao moved forward bravely and shouted, "I dare you to shoot!" The bird-hunters were shocked by her fearlessness and fled.
"I reckon that they did not dare to kill me just for bird hunting," Xiao said with pride.
The experiences of shooting birds, loving birds and protecting birds allowed Xiao to have more insight into life and nature.
Her book Leap Over the Plateau is soon to be released.
Later this year, Xiao plans to hold a large-scale bird photo exhibition and market. "The proceeds will be used to protect birds. I hope more and more people will like birds and love birds," Xiao said.
(Source: Xinua/Translated and edited by Women of China)