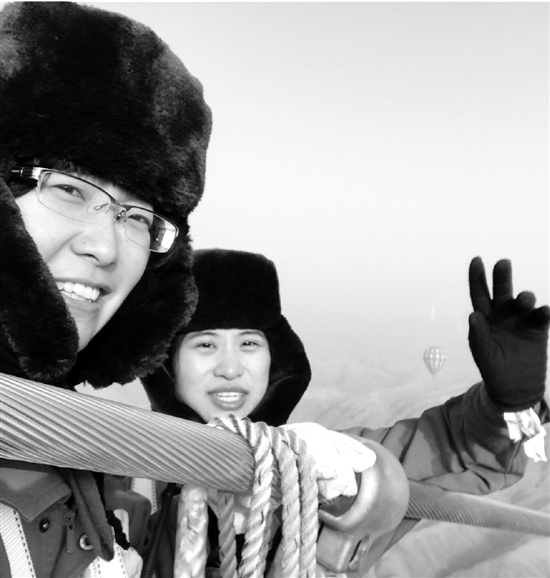 Gao Fei and Tao Jin (L) take a break 300 meters high above the Yellow River. [qjwb]
Two high-altitude specialist engineers, Gao Fei and Tao Jin, have become the first female technicians of their kind after they graduated from Zhejiang University of Technology.
Gao, 24, majored in science and engineering and is known for her pleasant personality. "I was a little surprised to be among the first batch of female technicians to do this job," said Gao.
Tao has a master's degree and said she conquered her fear of heights soon after she started the job.
"We are just like high attitude doctors. We check the electricity circuits regularly to ensure their safe and stable operation," said Gao.
"Human checks are necessary, because the problems and flaws of circuitry are subtle. We need to work and keep our body balanced at the same time," added Gao.
In December, Gao and Tao was sent to Baiyin city, northwest China's Gansu Province, to check a project where the two electricity towers span the Yellow River.
The line is almost one kilometer long and the towers run 300 meters above the river.
"It is cold, with a temperature of -17 to 18 degrees Celsius. But we have to wear light gear to keep our body balanced. It took five to six hours to check once, so we always brought meals with us," added Tao.
Both of Gao's and Tao's families support their work, and worry a little about their safety at the same time.
"I told them I am always safe, because we have the safety belt and other safety devices with us," said Tao.
"We will check the safety measures every time and take our cellphones with us. Then we start to climb," Gao added.
"We are proud to do such a job and we want to do it better," Gao concluded.
At present, several other female technicians are training in Jinan, east China's Shandong Province, and they will form a new female technician group with Gao and Tao.
(Source: Women Voice/Translated and edited by Women of China)