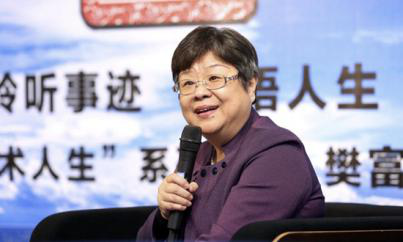 Fan Fumin gives a lecture at Tsinghua University [cyol.com]
A psychology professor from Tsinghua University was given the Lifetime Achievement Award recently by Chinese Association for Mental Health (CAMH) for her outstanding achievement in psychological education
Fan Fumin, 65, has opened 13 psychology courses at the campus, which have all been popular among students.
"Although I received this award, I know it's for my generation," said Fu.
She defined the mission of her generation as "to sow the seeds of health on barren land," not least by "taking many risks."
The public course she teaches is considered so essential that almost every dormitory at Tsinghua sends a representative to listen.
The guide that she translated and updated, College Students' Mental Health Screening Scale, has become a mental health assessment tool used in hundreds of colleges and universities nationwide.
Where it is used properly, it has been able to identify conditions among five to eight percent of freshmen every year, providing the possibility for early detection and intervention.
Back in the early 90s, there was no full-time teacher or expenditure for the psychological counseling center of Tsinghua University.
As the person in charge of the center, Fan recalled that "Few students went to consult, and they came secretly."
"At that time, society knew little about psychological counseling and thought it was a kind of sickness," Fu added.
It was in the University of Tsukuba in Japan where Fan first underwent formal training in the mental health screening scale for college students. When she returned to China, she could not wait to translate it and revise it.
In Tsinghua, she gave lectures and tried to give 300 people a psychological assessment. Without the help of a spreadsheet, she went through each completed questionnaire and calculated the results herself.
If any student was depressed, she would write a letter in which she asked them to come to the psychological counseling center to see her.
She often rode her bike to the mailbox room in the student dormitory to deliver letters.
"You can't go to them directly because they're afraid to let people know they are undergoing psychological counseling," Fan explained.
During past years, Fan was busy with popularizing the knowledge of psychological health everywhere. "Psychological counseling is for ordinary people who have troubles, not for sick people."
She still remembers the shock she felt when studying in Japan.
In a class exercise, the teacher asked eight students to make a circle and leave an exit. The rule was that a crisis happening and only one person can be let out.
Everyone has to convince others that he or she should be the one to go.
In fact, the purpose of this activity was not encourage people to compete for the opportunity to survive, "but to let you see that every life is valuable. There is always someone who needs you, so you cannot give up on your life."
Therefore, Fan translated the Japanese occupational survey questionnaire into Chinese overnight by using a dictionary.
Now, her office is just like a neighborhood committee, where anyone can knock on the door to share the "big problems" in their daily lives, such as conflicts with a roommate, getting along badly with a girlfriend, or if someone is having trouble sleeping.
Fan gives education on life values in class. She lets students talk about other people's death through a game; then, they talk about their own death by writing their epitaph.
She also teaches students how to deal with intimacy, and how to deal with anxiety.
Fan never shares her students' secrets and never judges them whatever they tell her. She likes to wear things that are colorful which has made her closer to her students.
Many students still remember the moment when they were moved by Fan from attending her class. Several students even still have tapes from a 1995 lecture by Fan in Shanghai.
Today, her course has become an elite undergraduate course of Tsinghua University and the first open, online video course offered by the Ministry of Education.
As she gets older, Fan still feels a sense of urgency after all these years. Her teaching assistant said, "Fan always tells the latest stuff and updates her teaching materials at the last minute."
Fan also wrote an epitaph for herself. "This is a happy woman. She is engaged in psychological counseling thatshe loved. She loves and is loved by her husband, daughter and her students."
(Source: cyol.com/Translated and edited by Women of China)