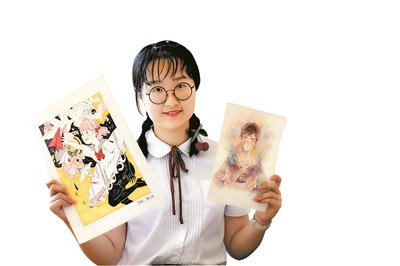 Chen Kexin [Dayoo.com]

Three high-achieving students from south China's Guangdong province recently spoke to reporters about winning places at top academic institutions in Beijing, and offered their stories and experiences.
Chen Kexin from the city of Shantou, Guangdong, has been learning drawing since she was four. After studying in elementary school, she started to create paintings with storylines, and later comic strips.
However, she always dreamed of becoming a baker rather than a painter. Gradually, she showed great passion for designing clothes and jewelry.
In high school, she fostered an interest in architecture and environmental art. Thus, in her spare time she often sketched buildings around her middle school which was surrounded by mountains and the sea.
In the first year of high school, Chen boldly made the decision to apply for art college to pursue her dreams, which were initially opposed by her father.
Chen's parents had blueprinted a steady path for her of being admitted to a prestigious university and becoming a financial worker after graduation.
During one summer vacation, Chen participated in a drawing course in a Beijing-based studio. Compared to the lively classroom atmosphere in the school, the life of the studio was boring, she recalls.
She had to take classes from day to night. After nine months of hard work, Chen successfully won 47th place among students across the country and was admitted to the Academy of Arts and Design of Tsinghua University.
During the three months before the college entrance examination, Chen worked hard on her studies by taking online courses in order to catch up with her peers. By counting the scores of both professional and cultural courses, Chen swept first place in the province.
Offering her advice to students who are ready to embark on the road of art, Chen said they should focus on the basic academic studies, which can give them an edge over other competitors. Besides, they should pinpoint the school that they want to apply for, and maintain a firm will. They should be convinced that they can do it, rather than retreat in the face of difficulties.
Wang Jingwei studies in Donghua High School in the city of Dongguan. He was admitted to the Electronic Information Department of Tsinghua University with a score of 683 points in this year's college entrance exams.
Wang Xiaoyang lives in Yongkou Community in Dongguan. He received an admission letter from Peking University with a performance among the top 20 in the province.
Wang's parents run a flower shop. Due to their busy work, they can barely take weekends off or even have holidays. Thus, Wang studies hard in the hope to ease the situation.
Wang's father told reporters that Wang Xiaoyang often helped with the chores in the shop during this vacation, as well as providing ideas for designing posters and posting advertisements on social media.
Wang Jingwei [Dayoo.com]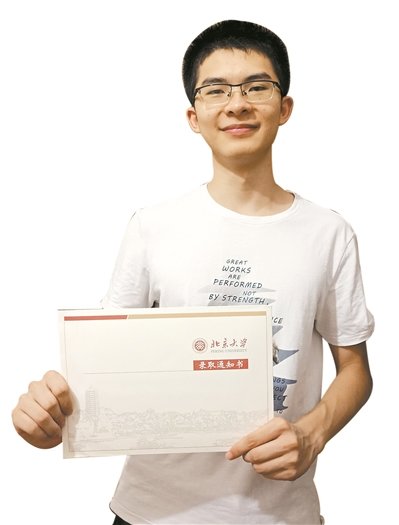 Wang Xiaoyang [Dayoo.com]
(Source: Dayoo.com/Translated and edited by Women of China)