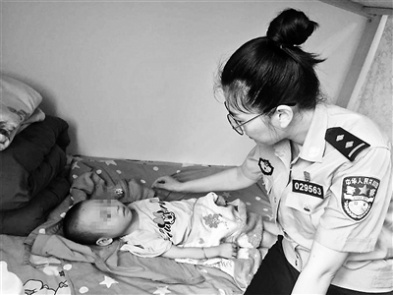 A policewoman takes care of 'Nuannuan'. [Beijing Youth Daily]
A kind-hearted policewoman has served as a nurse and taken care of a young girl with cerebral palsy since the child was abandoned by her parents in the Daxing District of Beijing last week.
At 3 a.m. on July 19, after a drizzle of rain, a security guard on duty at Daxing District Social Welfare Center was suddenly alerted by a burst of crying.
The security guard went to the gate and found a woven bag with a baby girl inside. He immediately took the child back to the duty room and called the police.
After receiving the emergency call, officers from Qingyuan Road police station rushed to the site in no time.
The abandoned girl, who was barely about one or two years old, curled up, lying on her side in a bed, with her eyes glazed over, her limbs numb, while she was making a weak but sharp cry.
Police examined the woven bag and found nothing that could prove the child's identity, except for a few pieces of clothing, milk bottles, milk powder and several baby diapers.
The girl stopped crying and shivered slightly as police inquired the security guard about the discovery.
The police decided to act in two directions at the same time. While quickly taking the baby girl to Daxing District People's Hospital for treatment, they also deployed police to search for the abandoned children's parents in the nearby area.
"Let's call her 'Nuannuan', which means warmth, to make the child feel warmer," said one of the police officers on the way to the hospital, holding the girl in her arms.
Fortunately, Nuannuan received medical treatment in time. Although she gradually recovered, her state is obviously different from most other children.
After careful examination by doctors, Nuannuan was finally diagnosed as having cerebral palsy.
At 8 a.m., the officers took Nuannuan back to the police station, and temporarily placed her in the female police dormitory.
After learning about the abandoned girl's situation, a policewoman who is breast-feeding immediately came over to the dormitory where Nuannuan was staying and served as her "temporary mother".
Given Nuannuan's special condition, in order to enable her to be properly treated, the police finally decided to send her to hospital for treatment after contacting the civil affairs department. When she is in stable condition, she will be resettled in a proper way.
At present, the police are trying their best to find Nuannuan's biological parents, hoping that they can reunite with the child as soon as possible.
(Source: Beijing Youth Daily/Translated and edited by Women of China)