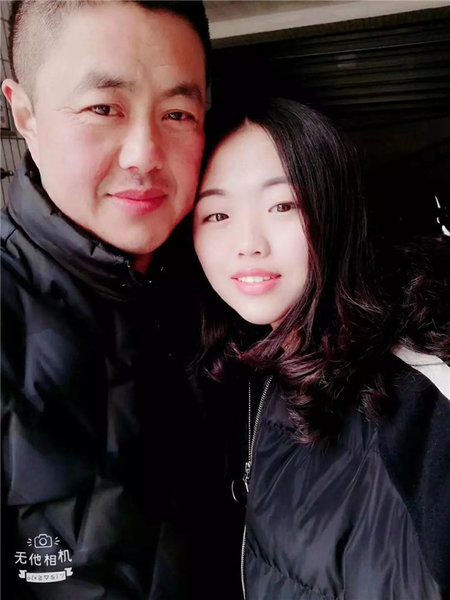 Qian Yiqing and her father [news.cyol.com]
A university student whose parents are hearing impaired, has learned sign language to better communicate with them, and plans to raise concern for special groups during the next semester.
Qian Yiqing, from Hai'an, east China's Jiangsu Province, is a student at Jiangsu Maritime Vocational and Technical College. She is leader of a student group named Love You where members learn sign language.
Qian spent most of her time with her grandparents when she was growing up.
In order to give her a better life, her grandfather learned to drive a car, use a computer and even how to operate a smart phone even though he was old.
Qian's grandfather was strict with her in education. He sent her to study calligraphy when she was six and carefully checked her handwriting.
In Qian's eyes, her father is an optimistic and humorous person. Although he cannot speak, he plays and grimaces with her.
Last year her dad started to do business on the instant-messaging app WeChat and recorded a sign language video to advertise his commodities.
This has made her father many friends like him across the country.
In order to better communicate with her parents, Qian chose to join the school's sign language group, which also received the unanimous support of her family.
She thought that sign language would be an important means of communication and an art. She has participated in many sign language competitions and gained the title of Outstanding Member of her group due to her performance.
In addition to her regular study, she also discusses some words with her father through online video chats.
"I can feel his happiness during the discussion," Qian said.
As an accounting student, she intends to get professional accreditation and use her spare time to gain a sign language translation certificate and teacher qualification certificate.
She said that she would like to be a teacher for hearing impaired and speech impaired children.
She also plans to promote sign language learning and perform more songs with sign language to appeal people's care and concern for hearing impaired group in the coming semester.
(Source: news.cyol.com/ Translated and edited by Women of China)