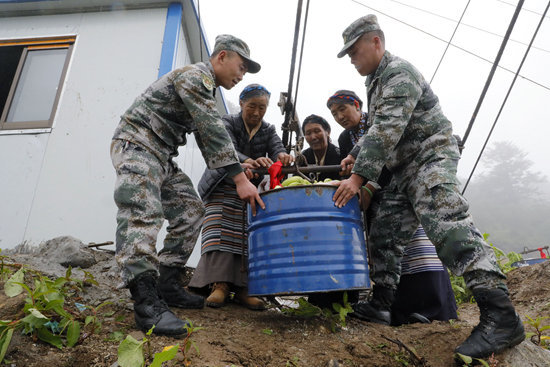 Deji, Puci and Cirenquzhen with the sentinels. [workercn.cn]
Three elderly Tibetan women, 62-year-old Deji, 57-year-old Puci and 65-year-old Cirenquzhen, have offered free food to snow mountain sentinels for 36 years on end.
Zhanangshe sentry post, at an altitude of 4,655 meters, located in Yadong County, southwest China's Tibet Autonomous Region, is surrounded by cliffs and snowy mountains.
Heavy snow seals the mountain passes for seven months each year. Over a long span of 36 years, these three Tibetan women have made their way up the snowy mountains along a steep path to deliver free food for the sentinel soldiers.
On this year's Army Day, August 1, the transport cableway, from the foot of the mountains straight up to the outpost, officially started operation. And therefore the three elderly Tibetan women no longer need to climb to the outpost with the food on their backs.

(Source: workercn.cn/Translated and edited by Women of China)