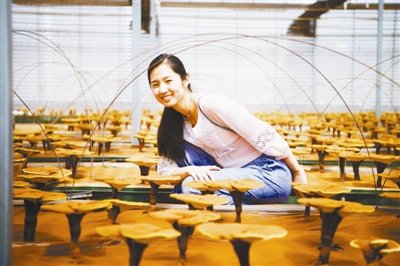 Zhang Yian [Hangzhou Daily]
Zhang Yian, an American-born Chinese, has become the image ambassador for a charity run by a pharmaceutical company, after she inspired cancer patients across the country for several years.
The charity was set up to provide financial assistance to students suffering from cancer.
On August 28, a total of 20 patients selected from among the applicants aged from three to 30 obtained a fund of 15,000 yuan each and were given 9,720 yuan worth of a special drug made by the company, which is based in Hangzhou, east China's Zhejiang Province.
"This activity will spread love and hope. We hope to motivate more organizations and individuals to show concern for cancer patients," said a spokesperson for Shouxiangu.
Zhang, 21, is a senior majoring in cranial nerve science at the Medical School of New York University.
In 2001, she was diagnosed with a malignant tumor. She underwent an operation at Suzhou Children's Hospital in east China's Jiangsu Province, and was afterwards sent to the prestigious Shanghai Children's Medical Center for further treatment due to the complexity of her condition.
Following the chemotherapy, Zhang's hair started to fall out, which concerned her parents and prompted them to take her back to the U.S. for treatment.
To their disappointment, experts at U.S. hospitals including those at the world-famous New York Tumor Center all told them that chemotherapy was the best treatment method.
Zhang's father, who holds a Ph.d degree from University of Arizona and works at the University, made up his mind to treat her daughter with traditional Chinese medicine (TCM) after research.
After taking TCM for 18 years, Zhang now feels much better, and her physical checkup results show she is in good condition.
Zhang has grown to be a confident and outgoing girl. With her outstanding academic performance, she has won many major awards including U.S. President's Awards, and was admitted to the elite New York University.
In an interview, Zhang extended her appreciation to her parents who "gave her life", and TCM which "gave her hope".
"I hope my experiences can spread some positive energy to those who are suffering from tumor, and inspire them to defeat the disease," she said.
Zhang also said she was interested in TCM and hopes to carry it forward in the future.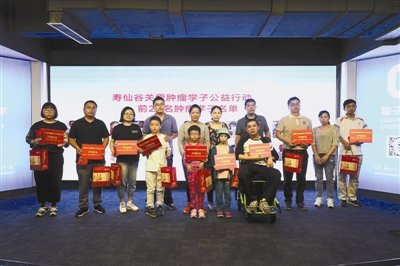 Tumor patients received financial assistance from the Shouxiangu charity. [Hangzhou Daily]
(Source: Hangzhou Daily / Translated and edited by Women of China)