Yuan Xiaofeng (L) and Cui Zhigang (R) in the hospital [Workercn.cn]
Yuan Xiaofeng and her husband Cui Zhigang, an 80-year-old surgery professor, have been working on the front line in the Beijing Tongren Hospital for decades. Their combined age now has reached 155.
Yuan Xiaofeng, 75, the former head nurse of the Ophthalmology Department, still works five days a week, whilst her husband receives outpatients twice a week.
Growing Old
Both of them were assigned to work at Tongren Hospital in the same year. In 1963, Cui was assigned to Tongren Hospital upon graduation from the Health Science Center of Peking University and gradually grew into a surgical expert, whilst Yuan graduated from a nursing school and later became the head nurse of the Ophthalmology Department.
They got to know each other in the hospital and bonded over the joint hope that more patients would recover with their sustained efforts.
Still Receiving Patients
Influenced by his father, who was a physician, Cui declined his teachers' suggestions of applying to Beihang University after his college entrance examination in 1958.
"At that time, I had the dream of becoming a doctor," said Cui.
After two years' theoretical study, Cui was assigned to work in the People's Hospital of Peking University as an intern.
In 1963, Cui graduated after finishing three years of clinical practice, and has since worked in the Surgical Department of Beijing Tongren Hospital for 55 years.
When Cui was 60 years old, he was reemployed to carry out operations for patients. At the age of 62, he stopped performing operations but continued to offer outpatient services.
Overcoming Hardship
"During the great Tangshan earthquake which occurred in north China's Hebei Province in 1976, we were performing an operation and saw the tiles falling from the walls, but none of us, including the doctors, anesthesiologists or nurses alike, left our posts. With mutual encouragement, we continued with the operation until it was successful in the end," Cui recalled.
In 1973, Cui joined a medical aid team from Beijing and went on his journey to Guinea on the western coast of Africa.
"The conditions there were tough, with mosquitoes buzzing around people," Cui recalled.
Upon completion of his African aid task two years later, he decided to support development in southwest China's Tibet Autonomous Region, after a short break in Beijing.
After returning from Tibet, Cui was mainly in charge of thyroidectomies.
"My idea was to make the patients' incision smaller and thus less noticeable," he introduced.
Moreover, the patients all spoke highly of him, applauding him as "a modest man and a doctor with infinite patience".
Former Head Nurse
In 1963, Yuan Xiaofeng, 20, graduated from a nurse school and began to work in Tongren Hospital.
At first, her top choice was to be a nurse in the Department of Surgery, and yet the experienced Director of the Ophthalmology Department noticed her outstanding talent and advised her to work in the Ophthalmology Department instead.
With the help from experienced doctors, Yuan improved quickly in her job.
After working at the hospital for eight years, she became head nurse of the Ophthalmology Department.
In 2000, the Ophthalmology Department established a Consultation Center at a time when Yuan was preparing for her retirement. The management hoped Yuan could return and instruct the younger nurses, thus Yuan retained and became an ordinary nurse at the Consultation Center.
Having worked in the Ophthalmology Department for 55 years, Yuan is familiar with every kind of eye disease.
The Ophthalmology Department of Tongren Hospital is divided into 12 sub-departments, with hundreds of ophthalmologists. Yuan can recommend the most suitable expert for the patients after their simple description of the problem and plus a quick look at their medical records.
Meanwhile, Yuan and Cui had known each other for 55 years.
In October 2017, the couple celebrated their golden wedding anniversary. Looking back on their experiences over the past decades, they both said they are satisfied with their unchanged love for work and life.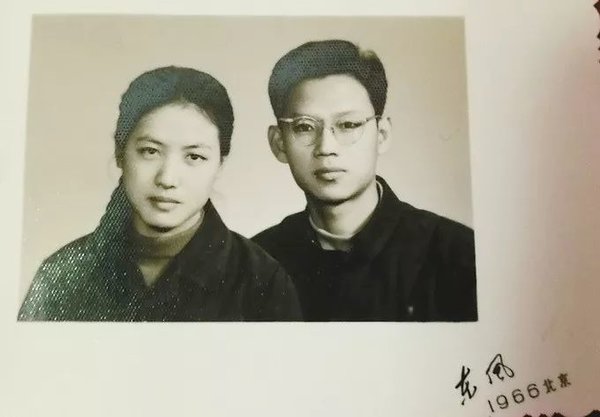 Old photo of Yuan Xiaofeng and Cui Zhigang [Workercn.cn]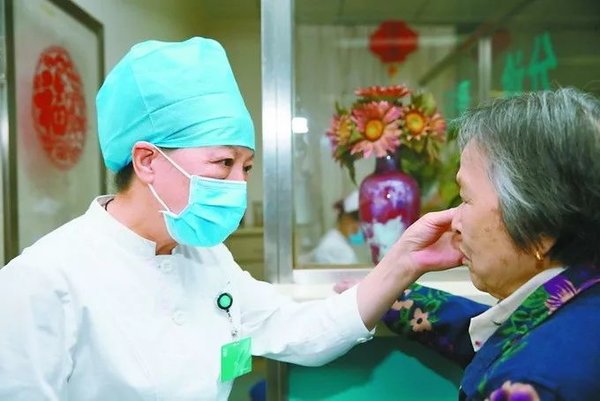 Yuan checks a patient. [Workercn.cn]
Yuan Xiaofeng (L) and Cui Zhigang (R) [Workercn.cn]
(Source: Workercn.cn/Translated and edited by Women of China)