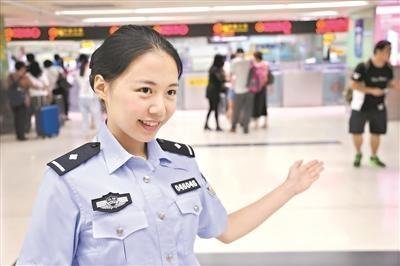 He Jieqi [Guangzhou Daily]
A female official at the Luohu Border Check Point in Shenzhen, south China's Guangdong province, became famous online recently after she posted a series of hand-drawn cartoons based on her daily work.
Policewoman He Jieqi has been using her spare time since 2014 to create dozens of cartoons based on her own experiences.
As a self-taught artist, He Jieqi has tried to explain the complicated legal provisions in simple terms through her humorous caricatures. Now, visitors are able to understand knowledge about customs clearance quickly.
One of her cartoons caused a heated discussion on the internet and gained popular among users of the social media app WeChat in 2016.
"It shared the innermost thoughts of police staff at our border station and resonated with everyone," He Jieqi said.
She enjoyed reading popular comics since she was in school, and she began drawing illustrations in her diary.
The first time she tried to combine her work with comics was when she worked at the border station for over a year.
"I thought it would be interesting to present stories from my work, so I drew some random pictures and posted them on my social account. I didn't expect so many people would like it," she recalled.
At that time, Luohu Border Check Point was just about to make a bulltin board, and colleagues from relevant departments asked He Jieqi to draw a cartoon about what to do if someone lost their mainland travel permits, which is an instruction to tell Hong Kong residents how to deal with this situation.
It was her first official release.
She realized that although authorities had been publicizing the policies, many tourists still had little knowledge about the laws of entry and exit.
Thus she began to draw more cartoons to help travelers enter and exit quickly and use self-service channels.
He Jieqi's creative thinking on communication comes from her education experience. She graduated from the Sports Journalism Department of Beijing Sport University.
Now, she has shifted to the post dealing with communications. She said the new position requires her to have more comprehensive abilities, and gives her more opportunities to apply the professional knowledge she learned in university.
She said that because she chose to be a border inspection police, it is necessary for her to take responsibility and learn to give. It is exactly the responsibility and dedication that makes this profession valuable.
"In society, there are still many people who stick to their posts and give up family reunions during holidays in order to make the city and the country run normally. I am just one of them," He Jieqi said.
One of He Jieqi's cartoons [Guangzhou Daily]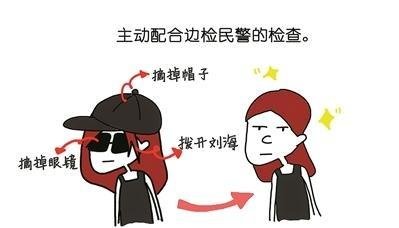 One of He Jieqi's cartoons [Guangzhou Daily]
(Source: Guangzhou Daily/Translated and edited by Women of China)