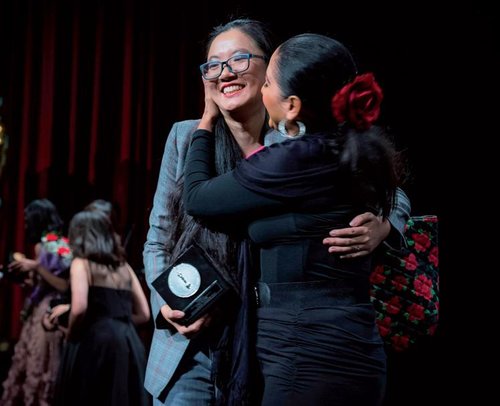 Li "Nikki" Yiying, director of the documentary Love & Loss, receives the silver medal award in the best documentary category at the 45th Student Academy Awards. [China Daily]
When Li "Nikki" Yiying was in college, one of her best friends passed away from brain cancer. Prior to being diagnosed with the disease, she had also lost her sight in a car accident.
"Despite her lack of vision, she had the biggest heart and the most positive attitude towards life. However, she never experienced love, a boyfriend or a relationship," Li said of her friend, who died before turning 24. "Love was what she was missing most in her short life."
The experience inspired Li, a graduate of University of Southern California, to focus on the disabled community. Her film Love & Loss, which follows the lives of two young women with disabilities, won her a silver medal in the best documentary category at the 45th Student Academy Awards.
"As an artist, I think we have a responsibility toward our society, toward our country," Li added. "I hope to better present this kind of responsibility through documentary."
The international award, established by the Academy of Motion Pictures Arts and Sciences in 1972, supports and encourages excellence in filmmaking at the college level.
Each year, more than 1,700 university and college film students from all over the world enter the competition for awards and cash grants.
The films are sorted into categories such as animation, documentary, narrative and experimental. Gold, silver and bronze medals are awarded to top filmmakers in each genre.
Li grew up in Xi'an and moved to the US when she was 17. After earning a bachelor's degree from the University of California in Irvine, Li went on to get an MFA in film and television at USC.
Thanks to the influence of her father, who worked at Xi'an Film Studio as a screenwriter, Li developed a passion for film at an early age. She has always been interested in telling the stories of people in underrepresented communities.
Li's documentary, Love & Loss, tells the stories of Karen Crespo and Nicole Evans, who both suffered from physical impairments. Through the dating lives of the two women, the film explores the challenges that disabled individuals face in an intimate relationship.
Li said she wanted to explore the lives of people with disabilities because of her friend's early death. The idea further developed when she came across an article talking about the complexities that disabled individuals face in a romantic relationship.
Once the theme of her film was set, Li took a year to find and interview the subjects.
"I hope that I am not only a director in their eyes, but I'm also their friend and their family," Li said. "I hoped that I would be integrated into their lives."
Her efforts paid off. Not only did she become close friends with Karen and Nicole, but her film also inspired many people to change their own lives.
"After watching my film, many viewers told me that they developed a more positive and optimistic attitude toward their lives, instead of complaining," she said.
(Source: China Daily)