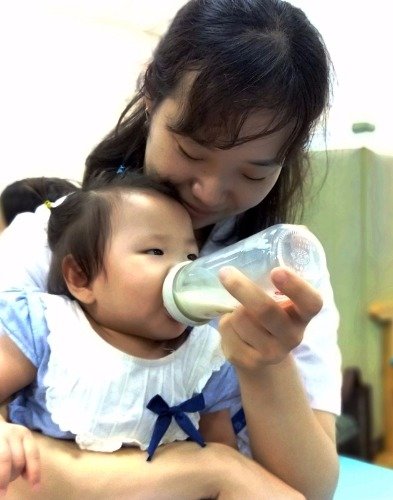 Chen Lewei feeds a baby at a hospital in Chengdu, Sichuan province. [China Daily]
Chen Lewei, 32, children's rehabilitation physician in Chengdu, Sichuan province.
I work with children with intellectual disabilities, including cerebral palsy and autism. Many are admitted to the hospital at a very young age — usually several months old — and undergo intensive treatment until they reach school age. That forges close relationships between medical professionals and parents that endure even after the children have been discharged.
The experience has helped me understand how difficult it is for the kids to blend into the mainstream education system, and into society when they get older.
In 2011, I was one of 14 therapists who offered to help educate the public about this neglected group in our spare time through activities such as seminars.
Over the years, specialists in special education have joined the team, and in 2016, we decided to launch a project called Chunyu, or Spring Rain, to focus on creating a more inclusive school environment for the kids.
We provide training sessions for teachers at mainstream schools who are unfamiliar with special needs children, and help parents provide a wholesome growing environment.
I feel that our efforts have begun to reap benefits, because more intellectually disabled students have enrolled at mainstream schools in Chengdu.
In 2008, I worked as a volunteer after a magnitude 8 earthquake struck Wenchuan county in Sichuan, killing tens of thousands of people.
At the time, I was studying rehabilitation at Chengdu University of Traditional Chinese Medicine, and was quickly sent to disaster-hit areas. I was extremely busy with numerous coordinating and statistical jobs, but I lacked a clear aim.
The voluntary work I do now is much more effective because it is governed by people's actual needs. The expertise of our team members means we have developed several new approaches that could be applied nationwide.
(Source: China Daily)