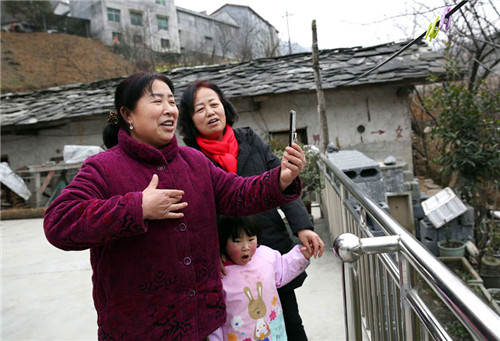 Wu Shiju [Photo by Wei Yongxian]
An old woman living in the mountainous area in Northwest China's Shaanxi province has become an online celebrity in less than a year since she started to upload short videos to a sharing platform.
Wu Shiju, 62, lives in Wencai village, Zhenping county, Ankang city, and has more than 200,000 online fans who like the short videos of Wu's normal life in the Daba Mountain.
She started to use her mobile phone to take short videos of her everyday life in the mountainous area and upload them to Douyin, one of China's most popular video-sharing platforms.
The mobile phone has helped her to connect with the outside world, and allowing people to know more about the real natural life in the mountains.
Wu never went to school as she had to help her mother take care of eight brothers and sisters. And now, she has most fans in the county that has a population of 60,000.
Though she has so many fans, she said she is only a dama (middle-aged woman) in rural area, doing farm work, food and taking care of grandchildren.
Wu has a 10-member family, including two sons, their wives and grandchildren. The sons run a barbershop in the county town, and their wives also work there. Wu and her husband live with the grandchildren in rural area.
At first, her family did not support Wu playing Douyin, but she continued playing it and usually got up early in the morning to take videos on hills. Gradually, her family members started to support her.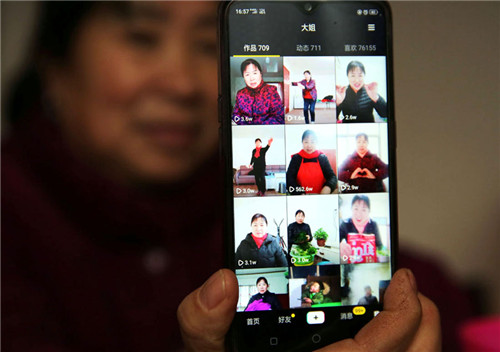 Wu Shiju shows her videos. [Photo by Wei Yongxian]
(Source: chinadaily.com.cn)