A donation ceremony is held at Institute of Microbiology, CAS on April 2, 2019. [Photo from WeChat account of Institute of Microbiology, CAS]
A scientist couple from the Chinese Academy of Science (CAS) donated their life savings of 1.5 million yuan ($223,000) to the education foundation of the University of Chinese Academy of Sciences on Tuesday to set up a scholarship.
Zheng Ruyong, 88, a well-known mycologist and academician of CAS, and her husband Huang He, 90, a scientist at CAS, set up the Zheng Ruyong and Huang He Scholarship to encourage young people to devote themselves to scientific research.
At the donation ceremony held at the Institute of Microbiology, CAS, Zheng said: "The country and CAS have cultivated me, so I want to contribute more to the country."
Zheng has been working at CAS since she graduated from college in 1953. She discovered endophytic mucor in higher plants for the first time in the world. Her research on powdery mildew has reached the world advanced level.
The husband and wife have devoted nearly all their life to scientific research. Zheng has spent more time with a microscope than she has with her husband. They don't have children.
She suffered from bone rarefaction and lumbar disease as a result of working long hours. In 2004, she had two steel rods and nine steel nails inserted in her spine. The doctor told her she could only sit for one hour a day and had to stand or lie down the rest of the time. Zheng elevated her desk and research table and began working standing up.
During 2012 and 2018, Zheng donated 300,000 yuan to Beijing Haiying Spinal Health Foundation to fund poor children suffering from spinal diseases.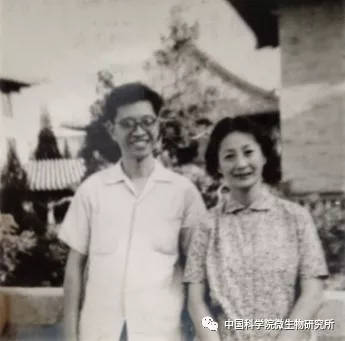 File photo shows Zheng Ruyong and Huang He when they were young. [Photo from WeChat account of Institute of Microbiology, CAS]
(Source: China Daily)