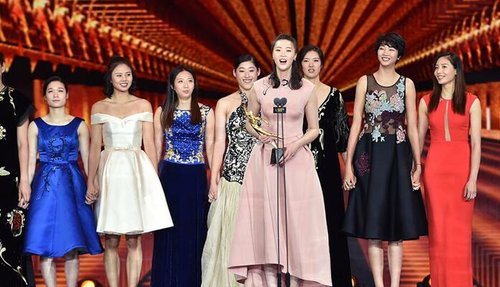 Hui Ruoqi (front) speaks during the ceremony. [Yutang Sports]
The 2016 CCTV Sports Personality of the Year Awards Ceremony was held at the Water Cube in Beijing last week and many outstanding athletes, coaches, participants and teams were honored.
The Chinese Women's Volleyball Team regained the gold medal at the Rio Olympic Games after 12 years, becoming the pride of the nation. The team won four awards at the ceremony.
"There was a pop sentence among our Chinese Women's Volleyball team that we all start from scratch after the ceremony. I hope the younger generation will guard against arrogance and rashness, and follow their original heart on the way to strive for excellence and to create miracles. I also hope they will compete for more championships" Lang Ping said after winning the Best Coach Award.
On behalf of the Chinese Women's Volleyball Team, Hui Ruoqi, the captain of the team, said: "We tried our best to create our own miracles in the Rio Challenge. We gave up and tolerated anything we could give up and tolerate. We wanted to remind people of a kind of persistence called Chinese Women's Volleyball!"
The complete list of award winners is as follows:
Best Male Athlete:Ma Long(Ping-pong)
Best Female Athlete:Zhu Ting(Volleyball)
Best New Athlete:Ren Qian(Diving)
Best Non-Olympic Athlete:Zou Shiming(Boxing)
Best Coach:Lang Ping(Volleyball)
Best Collaboration:Wu Minxia/Shi Tingmao(Diving)
Best Team:Chinese Women's Volleyball Team
Best Breakthrough Athlete:Gong Jinjie/Zhong Tianshi(Cycling)
Sports Spirit Award for the Disabled:Rong Jing(Wheelchair Fencing)
Best Sportsmanship Award:Miman Aymila
Grand Jury Prize:Chinese Women's Volleyball Team
(Source: Yutang Sports)