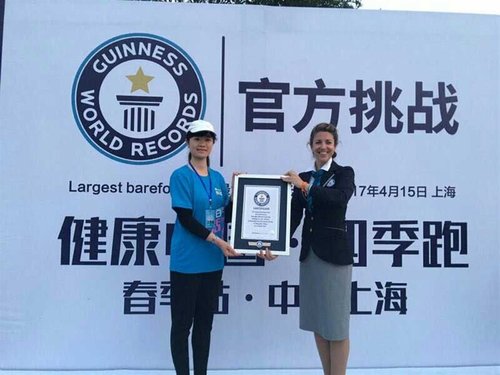 An organisor representative receives the award. [Shanghai Daily]
A new Guinness World Record of Largest Barefoot Race was set in Shanghai over the weekend as over 1,000 runners finished a 100-meter distance on barefoot at Pudong's Oriental Sports Center on Saturday morning.
The barefoot race was held as part of the 2017 Health China Four-Season Run, which featured a total of 3,000 runners. After finishing a 3.8km untimed distance, the 1,000-plus runners took off their shoes and successfully challenged the Largest Barefoot Race record together, watched by a Guinness officer.
The organizer Shanghai Pharmaceutical Holding Co. invited some myasthenia gravis patients to participate in the event to call for more care for this group of people.
Participants take part in the run. [Shanghai Daily]
(Source: Shanghai Daily)