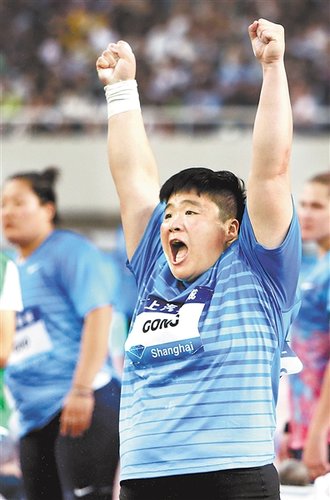 Gong Lijiao in the Shanghai leg of the IAAF Diamond League. [Xinhua]
Reigning world champion Gong Lijiao of China hurled a season best of 19.99 meters for all women shot putters to win the Shanghai leg of the IAAF Diamond League here on Saturday.
The 29-year-old Gong, the winner of the Diamond League trophy last year, beat a loaded field with five over-19m throws. Her winning mark came from the second round and in fact each of the five valid marks was good enough to seal the title for the local star.
"My plan was to break 20m today but unfortunately I was just one centimeter short of the mark," Gong said. "I probably will not join every Diamond League race this season, but I will try to get more points in each race I compete in."
Danniel Thomas-Dodd of Jamaica took the silver at 18.70m and America's Raven Saunders finished third at 18.63.
Defending world indoor champion Anita Marton failed to compete to her best level and only settled for the sixth place at 18.16. Four-time world champion Valerie Adams of New Zealand finished eighth at 18.01.
(Source: Xinhua)