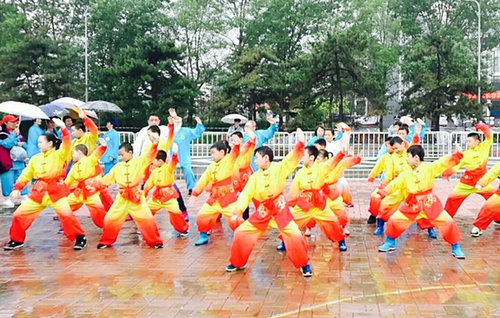 Students demonstrate traditional Chinese martial arts at the event. [ejilin.gov.cn]
The Changchun International Marathon was held in Changchun, capital city of Northeast China's Jilin province on May 27 fully prepared for the rain that greeted the runners.
The organizers had made detailed advanced planning for service, security, medical support and logistics in case of such unfavorable weather.
To ensure the marathon ran smoothly, volunteers, public security officers and medical staff were stationed along the route.
Ethiopian runner Tulu Feleke Darsema won the men's event, seizing victory in 2:28:01, while Kenya runner Bor Viola Chepleting snatched the women's title in 2:44:53.
More than 30,000 runners from 33 Chinese cities and 16 countries and regions including Germany, the US, Australia, Japan, Russia and Uganda participated in the Changchun race, which featured a marathon, a half marathon and a mini marathon as well as fun run races for families and couples.
An unexpected runner in the crowd catches people's attention during the marathon event in Changchun, Jilin, May 27. [ejilin.gov.cn]
(Source: China Daily)