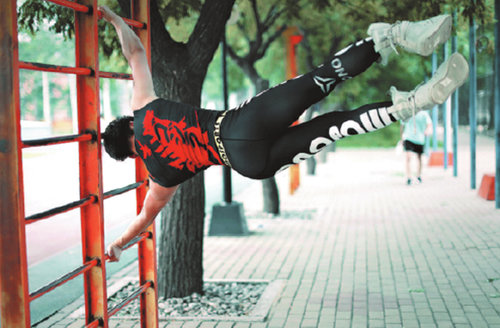 One of China's newest sportswear brands, Mono manufactures workout apparel that is ultraviolet-proof and anti-bacterial. [China Daily]
With more and more Chinese willing to pay to look good as they work out, domestic brands are keeping up to date with the latest gym fashion trends.
It's boom time for the fitness industry here, with the sector worth 1.9 trillion yuan ($294.1 billion) in 2016, according to the State General Administration of Sport and the National Bureau of Statistics.
It is estimated the industry will hit its target of 5 trillion yuan ($773.9 billion) by 2025, as Chinese brands jostle for their piece of the pie.
Domestic sportswear giants such as Li Ning, Anta and 361 Degrees have adopted a similar strategy to international goliaths like Adidas and Nike, producing footwear and outfits for basketball, soccer, running, outdoor sports and the so-called athleisure trend-exercise clothing that is also considered appropriate to wear at work or socially.
However, few of them focus on specialized gym apparel, according to designer Sun Lei, who hopes his new brand, Mono, will meet the demand.
Mono's workout outfits aim to provide a new option for gym-goers, with fabric that absorbs sweat, dries fast, and is ultraviolet-proof and antibacterial.
Style is also paramount. You won't see fashion-conscious Chinese youngsters sporting 1980s must-have stirrup pants, for example.
Mono, therefore, is launching three series for women, featuring different styles in three colors.
Another major trend in the industry is smart wear.
Li Ning has partnered with Chinese technology company Huami in 2017 to launch smart running shoes, which keep a record of the runner's steps, distance, route, frequency and calories, and sync this data with a cell phone.
The government's National Fitness Program forecasts that, by 2020, 700 million people will exercise at least once a week, with 435 million regularly exercising.
According to consulting firm Daxue, the sportswear market will overtake the country's luxury goods market by 2020.
(Source: China Daily)