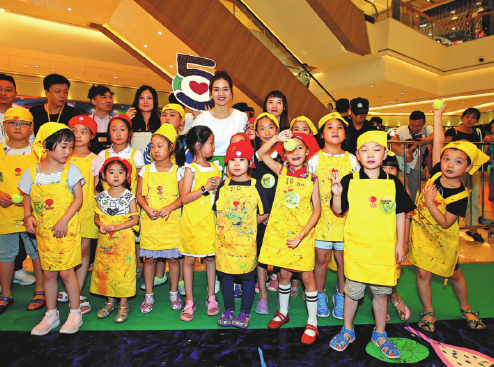 Chinese tennis legend Li Na poses with kids during a ticket-launch ceremony for her hometown Wuhan Open. Tournament organizer Wuhan Sports Development and Investment Co Ltd entertained kids, fans and guests with a series of activities to celebrate the fifth anniversary of the WTA Premier 5 competition, which will take place from Sept 21-29. [China Daily]
The Wuhan Open continues to go from strength to strength, with the September 21-29 edition of the WTA Premier 5 tournament focused on delivering an even better value experience for spectators.
To mark the competition's fifth anniversary, event organizer Wuhan Sports Development and Investment Co Ltd is offering all-day tickets for just 50 yuan ($7), for the dates September 23-26 inclusive.
Over those four days, that amounts to a possible 68 matches for 200 yuan at Wuhan's Optics Valley International Tennis Center.
Moreover, fans can book free tickets for the opening-day matches on the official Wuhan Open website.
China's two-time Grand Slam champion Li Na has worked tirelessly to promote her hometown event as its global ambassador, and she again expressed her pride at how the tournament and her city are boosting their international profiles.
"Wuhan is my hometown where I started my tennis career," Li said at a media conference to announce the tick-et offers.
"Although I'm not a professional player anymore, I'm still so happy to see all my old friends compete in Wuhan.
"I'm also glad to see that people in my hometown can see the world's best players playing in Wuhan, which was my dream when I was a young girl.
"This year's tournament schedule also features the traditional Chinese Mid-Autumn Festival, on September 24. I'll see all of you at Optics Valley."
Born and raised in Wuhan, Li helped put China on the tennis map with her victories at the French and Australian Opens, in 2011 and 2014 respectively.
The Wuhan Open replaced Japan's Pan Pacific Open on the WTA calendar and debuted in September 2014, just as Li announced her retirement from professional competition.
Li's enthusiastic presence has been a major feature of the tournament's last two editions, with the 36-year-old attending numerous promotional events for kids, youth players and fans.
Other activities to promote the tournament and city were launched last year, including a ball-kids exchange program with the French Open and opportunities for aspiring young journalists from middle schools to report on the competition.
Visitors to the capital city of Hubei province can expect more of the same this year, with the addition of a "Super Fans Project", which will select a number of grassroots tournament ambassadors from fans in attendance.
The ambassadors will pocket VIP tickets for the tournament and have a chance to interact with the superstar players.
"The Wuhan Open is the iconic event of the city and Hubei, and we want to express our gratitude to all of our fans," said Zhu Jianbin, chairman of Wuhan Sports Development and Investment.
"It's only because of all of the fans' support that we can build a world-renowned tournament and have stronger roots here.
"I hope that Wuhan can become the biggest tennis community in China."
Last year, the Wuhan Open boasted a star-studded cast, including last year's Wimbledon winner Garbine Muguruza of Spain, reigning French Open champion and current world No 1 Simona Halep of Romania, 2017 Roland Garros winner Jelena Ostapenko of Latvia and Czech former world No 1 Karolina Pliskova.
In all, 17 of the top-20 players in the world at that time competed, with a similarly strong presence from the elite of the women's game expected this year.
(Source: China Daily)