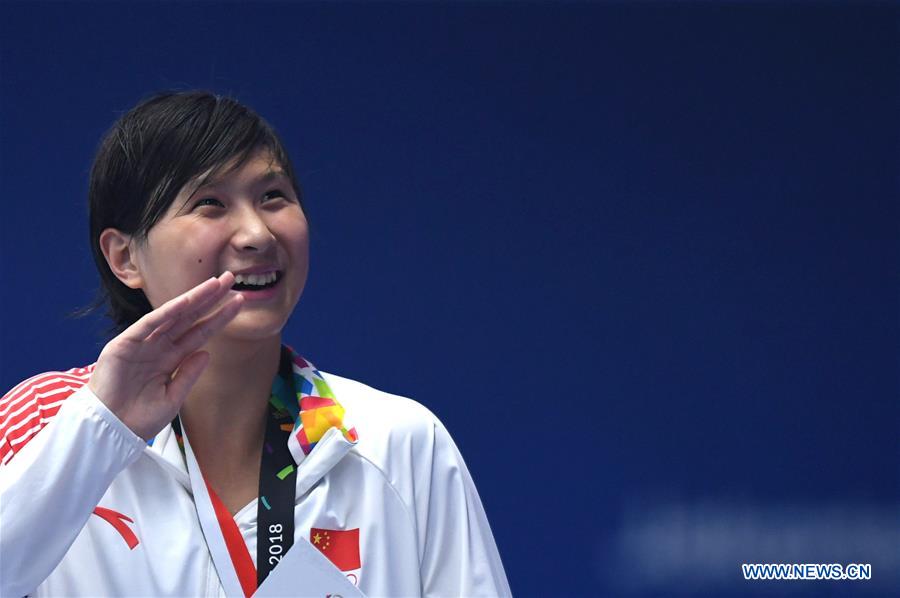 Wang Jianjiahe [Xinhua]
In a battle among three 16-year-old girls, Wang Jianjiahe took her second gold medal in the 200m freestyle at the Chinese National Swimming Championships here on Monday.
Wang, who smashed 400m freestyle short-course world record in the FINA World Cup in Doha and later in Budapest on Oct. 4 and world junior record in 800m, never looked back in the 200m freestyle, winning in one minute 56.70 seconds, 0.04 seconds faster than the result Li Bingjie achieved at the Asian Games. Li came to second at 1:58.71 and Ai Yanhan third 1:58.98.
"I kept training since the Asian Games and kept progressing in each meet. I improved my personal-best today and that boost my confidence and experience in the future big events," said Wang, who claimed victory in the 100m freestyle on Oct. 13.
Zhang Yufei snatched her second title at the championships as she topped 100m butterfly in 58.89, beating Shan Kaiqi 59.83 and Zhu Jiaming 59.85.
"I lost my weight for 3 kilos within one week after I came back from the FINA World Cup in Budapest. I felt tired but I wanted to improve my competition consistence," Zhang said.
He Yun clocked 1:08.73 for the women's 100m breaststroke title while Li Bingjie and her teammates won the 4x200m freestyle relay 8:01.07.
In the men's events, Mai Kunhao stormed to win 50m backstroke 25.70; Huang Chaosheng won the 400m individual medley at 4:18.80; Wang Zhou took the gold in 200m butterfly in 1:56.31 and Cheng Long dominated 800m freestyle with a time of 8:00.95.
The five-day Chinese National Swimming Championships will come to an end on Oct. 17.
(Source: Xinhua)