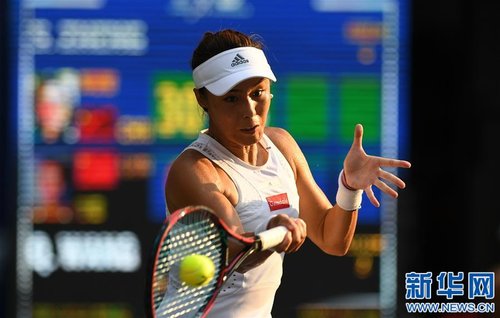 Wang Qiang [Xinhua]
Chinese ace oozing confidence and targeting a spot in world's top eight.
Wang Qiang is aiming for the very top — and she's not afraid to let the world know it.
In a refreshing departure from the cautious mantra of many other Chinese athletes, the 26-year-old has laid bare her world-conquering ambitions, spurred by a string of deep runs at recent Asian events that have vaulted her to a career-high world ranking of No.22.
"I just want to say out loud that to make it to the WTA Finals in Shenzhen is my ultimate goal next year," Wang said on the eve of this week's WTA Elite Trophy tournament in Zhuhai, Guangdong Province.
"To qualify for the year-end finale is proof that you belong with the world's best. I have made it to Zhuhai now and there is no reason why I can't keep climbing," said the Tianjin native.
That's a big leap.
The WTA Finals feature only the world's top eight women, with the legendary Li Na the only Chinese to have joined the party to date, from 2011-13.
Last week, Ukraine's Elina Svitolina beat American Madison Keys in the final to lift this year's trophy in Singapore, with the tournament moving to Shenzhen next year through 2028.
Wang said the tournament's new China base serves as extra motivation for her to fight for the spot.
Playing second billing to the WTA Finals, the Elite Trophy in nearby Zhuhai features the rest of the world's top 20 in a similar round-robin group format, with an enticing 700 ranking points up for grabs for the victor.
Wang's red-hot form points to her being in the mix.
After a semifinal run in Hiroshima in early September, she won her second career title in Guangzhou followed by back-to-back semifinal appearances in Wuhan and Beijing before storming into another final in Hong Kong — beating Svitolina and two-time Grand Slam champion Garbine Muguruza along the way.
In all, she posted six victories over top-20 opposition, including a 6-0, 6-0 thrashing of 2017 French Open champion Jelena Ostapenko.
As a result, Wang made the biggest rankings jump — 21 places — of any player during the Asian swing.
"Overall, I think I am a more complete player now, not just technically but also mentally," she said.
"I believe I can win every point on the court no matter who stands across the net," added Wang, who was due to open her Zhuhai campaign against Russia's Daria Kasatkina on Tuesday night.
A tougher baseline defender under the guidance of Australian coach Peter McNamara, Wang said she will next be focusing on enhancing her forehand and serve as she builds toward her Shenzhen target.
Her presence at next year's Finals would certainly be a bonus for organizers as the sport looks to give its Chinese growth a shot in the arm.
After ending a five-year stint in Singapore, an official handover ceremony on Monday marked the tournament's move to China, where the WTA now has eight Tour-level events.
The Shenzhen showcase will offer record prize money of $14 million — double the amount in Singapore and even eclipsing the $8.5 million the men compete for at their equivalent year-end championship in London.
WTA CEO Steve Simon said concluding the season in the Guangdong metropolis reflects the best interests of tennis' global expansion.
"Shenzhen is going to be a great host, and keeping the Finals here in the Asia-Pacific region reflects the commitment that we have to the business," Simon said in Singapore last week.
With the Premier 5 Wuhan Open and the Premier Mandatory China Open in Beijing both taking place within a month of the Finals, players should also benefit from a lighter travel schedule.
"We now have complete geographic flow," Simon added.
"The calendar is being set up with some adjustments that will allow for a very easy flow into the Finals in Shenzhen."
(Source: China Daily)