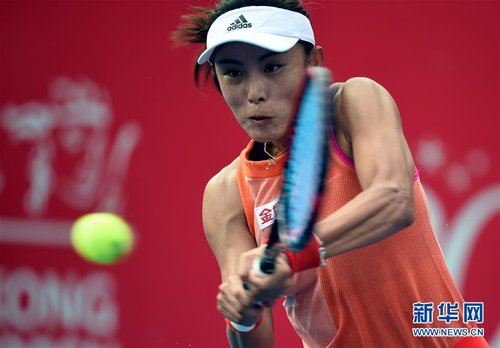 Wang Qiang [Xinhua]
Wang Qiang became China's first player to reach the WTA Elite Trophy final after stunning Garbine Muguruza of Spain in straight sets here in the semifinal on Saturday.
Wang replaced Madison Keys, who was forced to withdraw due to a left knee injury, to place in the tournament. The Chinese No. 1 presented the home audience a lop-sided 6-2, 6-0 victory.
After wining an 11-minute game full of lengthy rallies at 3-2, Wang converted her third break point to take the early lead. Wang continued to dominate in the second set as she closed out the match after an hour and 13 minutes without dropping one game.
The 26-year-old booked a spot inside the WTA's Top 20, rising from her current career high of world No. 22.
Wang will face Ashleigh Barty. The Australian won their last and only head-to-head clash in straight sets earlier this year.
"She's a very smart player and she knows how to change her strategies and she has a lot of variety in her serve." Wang said.
"Tomorrow I will do my best and not think too much on the result. It's already a miracle for me to stand on the court. So what I'll just relax tomorrow," She added.
(Source: Xinhua)