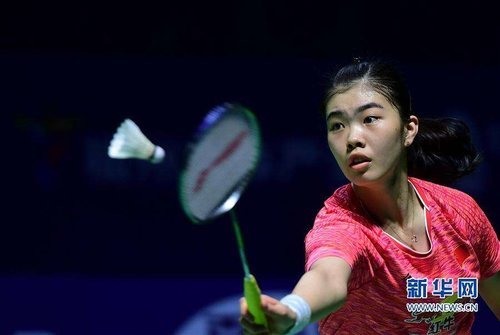 Chinese player Gao Fangjie [Xinhua]
China has been awarded the right to host five badminton tournaments between 2019 and 2025, the Badminton World Federation (BWF) announced on Thursday.
China will host the Thomas and Uber Cups in 2024, the Sudirman Cup in 2021 and 2025 as well as the World Junior Championships in 2021, with the host cities yet to be confirmed.
Final bids were presented earlier on Thursday, when BWF Council members listened to bid presentations from Member Associations for the 18 major events, including the Thomas and Uber Cups, the Sudirman Cup, the World Championships, the World Junior Championships and the World Senior Championships.
The badminton world governing body said the announcement was a "landmark event" for the BWF as it endeavors to increase badminton's global appeal and exposure in traditional and developing areas throughout the world.
"It allows all of our hosts to work closely with the BWF to ensure the staging of world-class tournaments as we continue to grow the sport globally," said BWF President Poul-Erik Hoyer.
"We were lucky to receive some outstanding bids, all with the same forward-thinking vision as us. Following an exhaustive assessment period, we were able to determine the host cities and countries that best represented the interests of the sport," he said in a statement.
(Source: Xinhua)