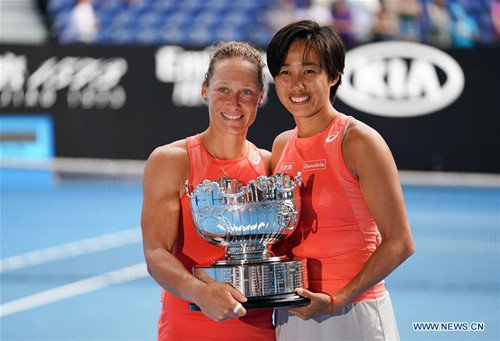 Zhang Shuai (R) of China and Samantha Stosur of Australia pose for photos after winning the women's doubles final match at 2019 Australian Open in Melbourne, Australia, Jan. 25, 2019. [Xinhua / Bai Xuefei]
China's Zhang Shuai and her Australian partner Sam Stosur have won the 2019 Australian Open women's doubles final in straight sets on Friday against Hungary's Timea Babos and France's Kristina Mladenovic, 6-3, 6-4.
Garnering massive support throughout the tournament from local fans as well as a strong contingency of Chinese supporters down under, an emotional Zhang told Xinhua after the match: "I'm really happy I won the Australian Open in Melbourne with my best friend."
Having developed a formidable partnership, the Sino-Aussie duo only dropped one set in their five matches on route to the final.
But up against the reigning Australian Open champions it wasn't going to be easy, and with the very first game of the match going to deuce eight times, it was clear that both teams were ready for a tight battle.
It would be the Europeans however that would draw first blood in the contest, with an early break in the opening set.
But Zhang and Stosur quickly countered back to even the score at 3-3.
The pair then won the next three games in a row with Zhang showing aggression at the net and looking to blast her powerful forehand shots down the line.
"She is a great singles player and a great doubles player," Stosur said of her 30-year-old Chinese partner who also made the third round of the singles bracket. "She really deserves to be a Grand Slam champion."
"She believes in me and I believe in her and to now to be here holding a trophy, and for Shuai, her first Grand Slam, I'm just really happy to be her partner."
In the second set, Zhang and Stosur started to look firmly in control after breaking the Europeans' serve mid-way through.
"I felt confident because I hadn't lost my serve all day and when I needed to I was coming up with the goods. And with Shuai at the net I felt we were making good decisions out there," Stosur said.
But at the championship point, it appeared as though the pressure was getting to Stosur after she missed her vital second serve.
The former U.S. Open winner told reporters that the pair "like to laugh because that's when we are playing our best," Stosur said.
"Being tight and tense on court doesn't really work for us so we try to stay relaxed, have fun and enjoy it. At that moment, we kind of needed to laugh it off because we had a match point and I double faulted," Stosor added.
Following on from their triumphant Australian Open victory, the pair have already set their sights on the world's other Grand Slam championships.
"For sure after here we should play more doubles because now we have a high ranking. We can play a lot of big tournaments," Zhang said.
"Over the last two years, I have had injuries. After that, Sam had injuries and we cannot play together. But now we're healthy and we have a high ranking. Also after here, we've got a lot of confidence. So we should play more because we want to win more," Zhang added.
(Source: Xinhua)