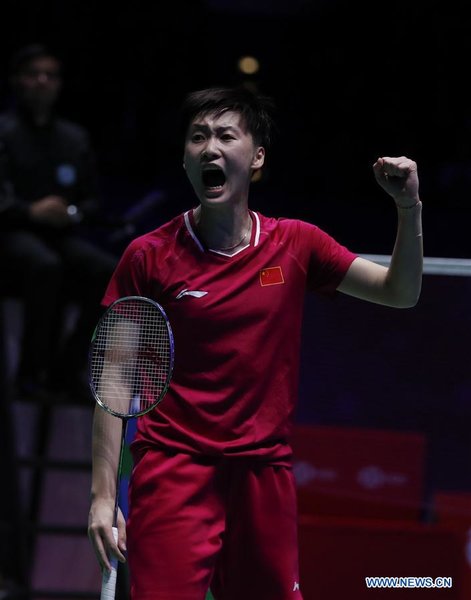 China's Chen Yufei reacts during the women's singles final match against Tai Tzu Ying of Chinese Taipei at the All England Open Badminton Championships 2019 in Birmingham, Britain on March 10, 2019. Chen Yufei won 2-0 to claim the title. [Xinhua/Han Yan]
Third seed Chen Yufei dashed Tai Tzu Ying's hope of winning a hat-trick of women's singles titles as she beat the two-time defending champion in straight sets at the All England Open badminton championships here on Sunday.
The 20-year-old Chen, who had lost all their 11 previous meetings, pulled ahead 16-9 in the first set but Tai managed to narrow the gap to 17-19. Chen settled the first set with two more points with 21-17.
The second set was an see-saw play although Chen enjoyed the upper hand most of the time. Tai fought back from 16-12 down to level the score at 17-17 before Chen took advantage of Tai's mistakes to seal the victory 21-17.
As she won the final point Chen fell to the court at Arena Birmingham to celebrate the victory.
"This is the most important victory in my career," Chen said. "I am very, very excited. I need to thank everybody in the women's team of China. Without the team work, this title is never possible."
"It was a tough match against Tai. Even when I was leading by a big margin, she never gave up. I told myself to play my best and just focused on my own game."
"This victory will surely boost my confidence and I will try to find how I won the title and hopefully I can do better in the future."
Chen is the first player from team China to win the women's singles final since Wang Shixian lifted the trophy in 2014.
Chen's victory is also the second from team China this year following Chen Qingchen and Jia Yifan's win in the women's doubles final.
The two 21-year-olds came from behind from one set down and saved two match points in the second set to beat third seed Japanese pair Mayu Matsumoto and Wakana Nagahara 18-21, 22-20, 21-11.
After the game, Chen said: "We're so happy." Jia added: "It's just fantastic to win the title this year and we beat really strong opponents through all the earlier matches - it just gave us so much motivation and confidence for future performances."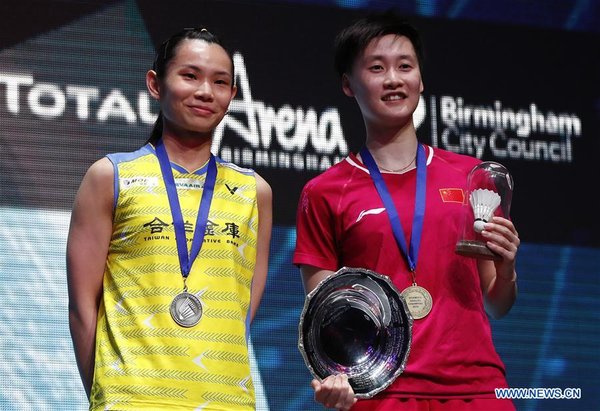 China's Chen Yufei (R) and Tai Tzu Ying of Chinese Taipei react during the awarding ceremony for women's singles at the All England Open Badminton Championships 2019 in Birmingham, Britain on March 10, 2019. Chen Yufei won the final 2-0 to claim the title. [Xinhua/Han Yan]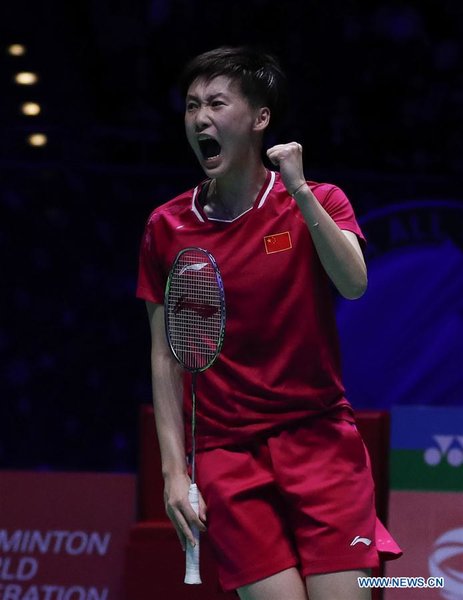 China's Chen Yufei reacts during the women's singles final match against Tai Tzu Ying of Chinese Taipei at the All England Open Badminton Championships 2019 in Birmingham, Britain on March 10, 2019. Chen Yufei won 2-0 to claim the title. [Xinhua/Han Yan]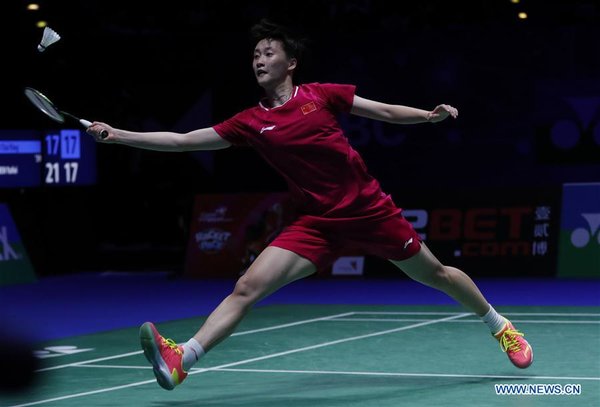 China's Chen Yufei competes during the women's singles final match against Tai Tzu Ying of Chinese Taipei at the All England Open Badminton Championships 2019 in Birmingham, Britain on March 10, 2019. Chen Yufei won 2-0 to claim the title. [Xinhua/Han Yan]
(Source: Xinhua)