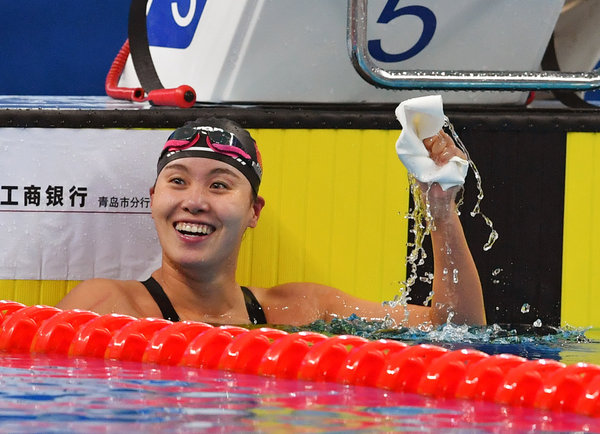 Fu Yuanhui wins the 100m title in 59.84 seconds at the national swimming championships in Qingdao, Shandong province, March 26, 2019. [Photo/Xinhua]
Fu Yuanhui's regular appearances on TV variety shows in recent months have led some to question the former world champion's focus on swimming.
But not to worry.
The 23-year-old backstroke ace proved the doubters wrong by winning the 100m title in 59.84 seconds at the national swimming championships in Qingdao, Shandong province, on Tuesday.
"Participating in variety shows did not affect my training," said Fu. "I do not care about some voices on social media. Even while appearing on the shows, I have been maintaining my training.
"I participated in a show with my father, and I thought that was a positive portrayal of athletes and their family lives."
Fu has proved a neat fit in the entertainment world ever since endearing herself to the nation with a kooky post-race interview at the 2016 Rio Olympics.
As her goofy-but-cute facial expressions went viral, Fu unwittingly coined her own catchphrase-"I've already spent my prehistorical (honghuang in pinyin) energy"-and has been known as 'Honghuang Girl' ever since.
Despite only winning bronze in the 100m backstroke in Rio, her celebrity continued to soar after the Games.
Fu's latest TV outing, My Little One, follows the daily lives of the 23-year-old Hangzhou native and her father, with dad's cheerful character a huge hit with viewers.
He arrived in Qingdao on Wednesday morning, and Fu wasn't sure if that was a good idea or not.
"I'm afraid my dad might cause a disturbance because he's also a star now! Many people will want to have photos with him," said Fu.
"I'm so happy that many people like my father. After all, there are not many 'cute boys' like him out there."
Speaking of Tuesday's performance, Fu said there's still plenty of room for improvement.
"I'm pretty relaxed now because I never thought I could win the gold this time. I'm not in perfect condition, but I was trying to qualify for the Gwanju world championships (in July in South Korea)," said Fu, who holds the national 100m backstroke record at 58.72 seconds.
"I'm aiming to go one second faster, but I'm still making adjustments. So, I can take the result tonight as a measure."
Fu credited her 100m success to a tough winter training stint.
"The winter training was really solid, so I haven't felt so confident in a long time," she said.
"I knew I could not have a groundbreaking result in Qingdao, but I know what I'm capable of. So, step by step, I believe I'll return to the top as soon as possible."
Fu's main target at the Gwanju worlds is the 50m backstroke. She won gold in the event at the 2015 worlds in Russia and silver two years ago in Hungary.
Her performance in the heats this week, however, did not exactly fill her with confidence that she'll again be in the medal hunt in South Korea.
"I'm still adjusting myself to find the right condition," she said.
"Because of the tight schedule, I couldn't sleep very well in recent days. That doesn't mean I have any physical problems; I'm just finding the right pace".
Then, with trademark humor, she added: "Or maybe it's because I'm old already."
(Source: China Daily)