Players of China line up ahead of the placement match 11-12 at the 2019 Algarve Cup women's football tournament in Albufeira, Portugal, on March 6, 2019. China lost 3-5 (2-4 in penalty shoot-out). [Photo/Xinhua]
China suffered their third consecutive defeat in the 2019 Algarve Cup women's soccer invitational tournament, losing 4-2 to the Netherlands in the penalty shootout, and finished 12th in all 12 teams here on Wednesday.
After an 1-1 regular-time draw, the Netherlands made all penalties in the first four rounds while China missed two.
China had ranked third in Group C after two successive defeats while the Netherlands had also been at Group B bottom without a goal.
The Netherlands tested China's goalkeeper Peng Shimeng just two minutes into the game, but Miedema's attempt in a close range was too weak to surprise Peng.
China wasted a good opportunity on 17 minutes when Wang Shuang was sent clear but her drill from a tight angle was denied by Sari Van Veenendaal before Miedema' header rattled the woodwork.
Miedema continued her havoc in the 28th minute as she shook off his marker after great footwork, but Peng stuck out a foot to parry it away.
The Netherlands finally found the net on the stroke of half-time as Lineth Beerensteyn burst into the box and squared for Miedema to find the empty net.
Yao Wei got China back on level after the break by turning in Wang's low cross.
The Netherlands should have restored the lead in the 54th minute as Lieke Martens beat an offside trap but her strike was wide off.
Later on, Xiao Yuyi missed an empty net, and Renate Jansen's curler out of the box on 88 minutes hit the bar.
In the title race, Norway beat Poland 3-0.
China's Gu Yasha (L) vies with Desiree Van Lunteren of the Netherlands during the placement match 11-12 at the 2019 Algarve Cup women's football tournament in Albufeira, Portugal, on March 6, 2019. China lost 3-5 (2-4 in penalty shoot-out). [Photo/Xinhua]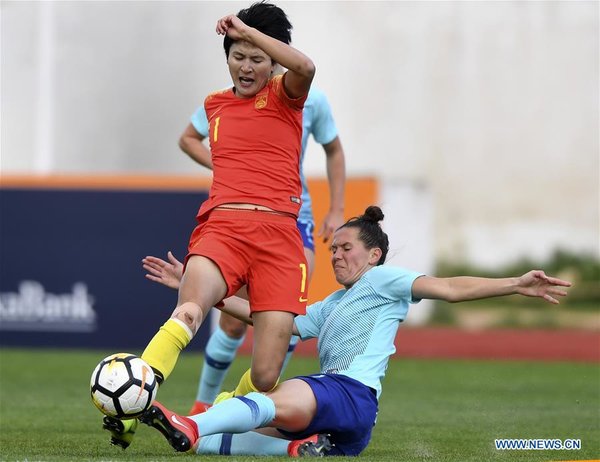 China's Wang Shanshan (L) vies with Merel Van Dongen of the Netherlands during the placement match 11-12 at the 2019 Algarve Cup women's football tournament in Albufeira, Portugal, on March 6, 2019. China lost 3-5 (2-4 in penalty shoot-out). [Photo/Xinhua]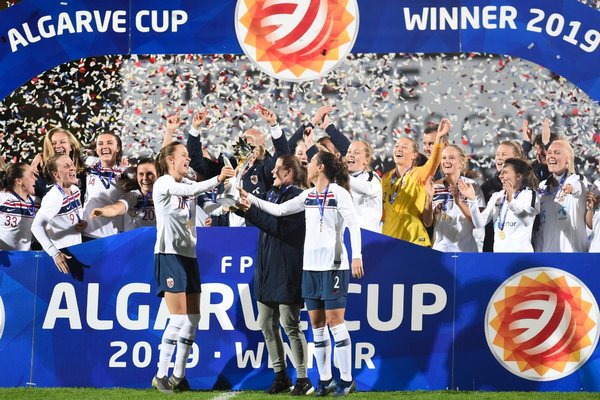 Norway's players celebrate after winning the championship at the 2019 Algarve Cup women's football tournament in Albufeira, Portugal, on March 6, 2019. [Photo/Xinhua]
(Source: Xinhua)