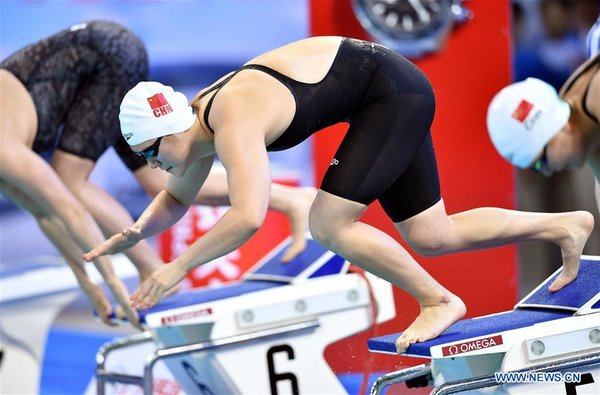 Ye Shiwen of China competes during the women's 200m Breaststroke match of the FINA Champions Swim Series in Guangzhou, capital of south China's Guangdong Province, April 28, 2019. [Xinhua/Liu Dawei]
London Olympic medley champion Ye Shiwen showed her talent in the backstroke as she won the 200m back at the FINA Champions Swim Series here on Sunday.
Ye, 23, clocked two minutes 22.53 seconds to win the 200m back. She also won the 100m back on Saturday.
"It is my personal best," said Ye happily. "It's very good to be back in Guangzhou as this is the place where I started my dream."
Ye earned her fame in the 2010 Asian Games where she won the 200m and 400m individual medley at an age of 14. She then stunned the world by claiming the titles of the two events at the 2012 London Games.
China's Yu Jingyao took second in 2:25.85, while He Yun came third in 2:27.51.