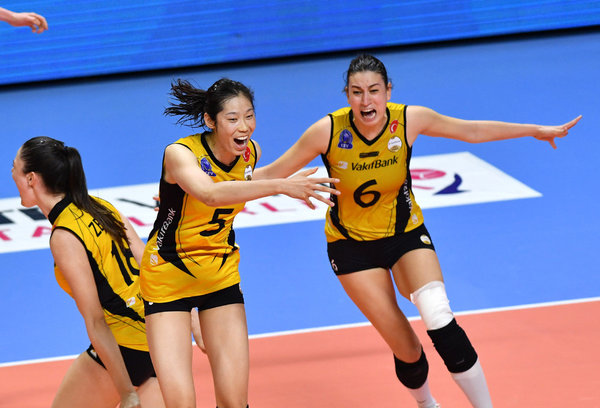 Zhu Ting and her VakifBank teammates celebrate after their winning the title of Turkish Women's Volleyball League in the 2018-2019 season in Istanbul, Turkey, May 5, 2019. [Xinhua]
Chinese women's volleyball skipper Zhu Ting said she valued the experience of playing abroad after her third-season with VakifBank Istanbul ended with the title of Turkish Women's Volleyball League last Sunday.
"It's lucky that we managed to defend the championship when facing a stronger opponent," Zhu Ting told Xinhua in an interview.
In her mind, it was not a perfect season, however, as VakifBank failed to reach the final of the Women's CEV Champions League in order to defend their title.
"In the semifinal against Igor Gorgonzola Novara, we couldn't suppress the attack in the first set. In the second leg, we lost set points and the golden set," Zhu recalled.
With her MVP performance in the past three years, the 24-year-old is getting more popular off the court. She was invited to visit the ambassador's residence of Chinese Embassy in Turkey and the Turkish Embassy in China. Turkish Volleyball Federation (TVF) president Mehmet Akif Ustundag regarded her a sports ambassador between China and Turkey. Zhu says she considers it a big honor.
"I am doing my part, as a player, to promote the sport and it shows that my efforts have been well recognized," she said.
Zhu ranks the second in the list of the most influential athletes of China in year 2018. She decided to come to Turkey with the eagerness to improve in high-level Turkish league. After the three seasons, she became better at passing and defending.
In the third season, Zhu's parents went to Turkey to watch her play, which relieved much of her pressure. Zhu Ting returned to Chinese soil representing the Turkish club for the first time at 2018 FIVB Women's Club World Championship held in Shaoxing. "Although I represented a Turkish club, the cheers from the audience told me that I was back home," she said.
(Source: Xinhua)