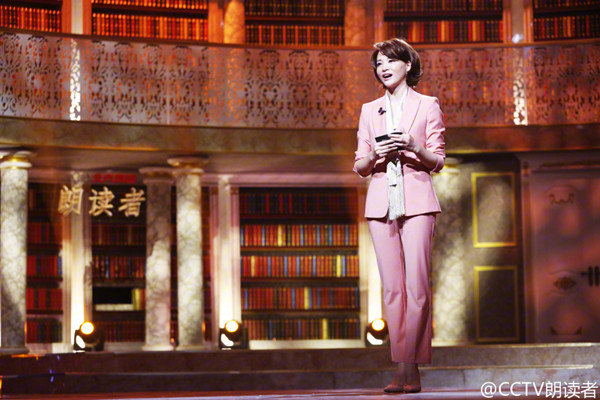 CCTV host Dong Qing hosts her new TV program Readers. [Official Sina Weibo account of Readers]
Readers, the weekly cultural TV program hosted by Chinese renowned TV anchor Dong Qing, has become a nationwide sensation and is now considered as the leader in the return of cultural programs.
Airing on channels 1 and 3 of China Central Television (CCTV), the show invites people from all segments of society to read aloud various pieces of literature, aiming to spread ideas, touch audience members' hearts and inherit spirits.
'Readers': Popular and Elegant
The first episode, themed "Encounter", starred eminent Chinese translator Xu Yuanchong, highly-respected Chinese actor Pu Cunxin, Chinese tech giant Lenovo founder Liu Chuanzhi and Jiang Li, a member of Doctors Without Borders, and Chinese actress Zhang Zilin to share their personal life experiences and read aloud excerpts from poems, books and letters.
Without any magnificent stage design, Readers has brought the almost-lost habit of reading aloud back into the public spotlight, immersing the audience in the beauty of language, and receiving good reputation. The audience resonated with the feelings and stories behind the letters, poems and articles.
As the producer of Readers, Dong expressed difficulties in making a cultural TV program. She wished that Readers could be with both popularity and elegance, painting a broad picture to strengthen communication bonds between audience and readings, and, expressing "collective memory and public emotions".
How Does 'Readers' Win Such Popularity?
In the digital and social networking age, word of mouth communication is considered the most effective channel to win popularity.
Indeed, Readers has a special attraction for people who are immersed in social media networks.
After its debut, Readers was rated 9.3 out of 10 on Douban, one of China's most popular review sites. Netizens have praised it as "a breath of fresh air" to purify the media atmosphere among China's overwhelming entertainment shows.
Another cultural TV program, Letters Alive (Jianzi Ru Mian), sharing touching letters with the audience, directed by Guan Zhengwen, also won a great reputation online, rating 9.0 out of 10 on Douban.
When it comes to his original intention of creating cultural shows, Guan, who also directed other outstanding cultural TV programs including Dictation Assembly of Chinese Characters and Chinese Idiom Congress noted that he considers cultural programs the future, focusing not only on the high ratings of these TV programs but also the cultural influences.
Experts explicitly explain how cultural programs have come back into audience's favor.
Regarding cultural diversity, with the fast pace and high pressure of contemporary Chinese society, people, especially the younger generation, tend to choose shallow media and entertainment shows to relax.
In such a 'fragmented' age, people spend less time thinking, ignoring the value of classical literature. The mainstream medium also failed to take on their public service responsibility, providing sensible guidance for the public for cultural values.
When audiences are overloaded with fragmented reading contents and tired of reality shows and other entertainment shows, they become eager for the value return of mainstream culture.
Timing for the Return of Values of Traditional Chinese Culture
"How long have you lost your reading habits? How long have you not written a letter? How long have you not read a paper book?"
This is what Dong Qing said in the trailer of Readers.
Guan mentioned, "Our societies need cultural products with diversity. However, in contemporary China, we spend too little time reading and too much time entertaining. Once our spiritual cultural life goes on aberrancy for too long, we will return to the right course due to the function of our cultural self-repair ability."
The popularity of TV programs that highlight the charm and power of literature is considered the return of mainstream cultural values and will re-ignite the public's interest in literature, specialists and experts believe.
The current situation implies a huge demand for cultural shows in the public however, experts have suggested that producers still need to make more efforts and changes in the overall media environment.
As Dong Qing said, "I think it is too early to say cultural programs have greeted their spring. The success of these shows is like a vane, encouraging us to promote cultural inheritance."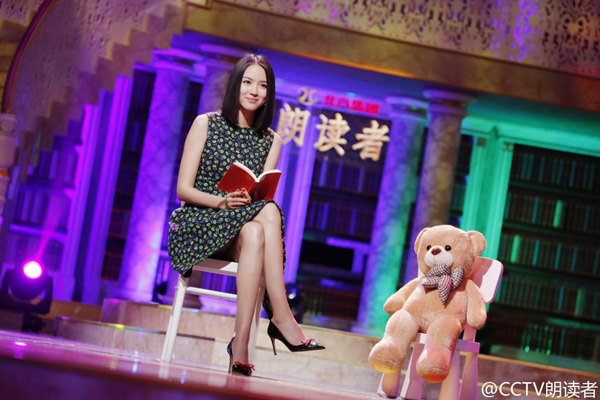 TV program 'Readers' rekindles passion for literature across China. Chinese actress Zhang Zilin reads at the Readers show. [Official Sina Weibo account of Readers]
(Source: Guangzhou Daily/ Translated and edited by Women of China)