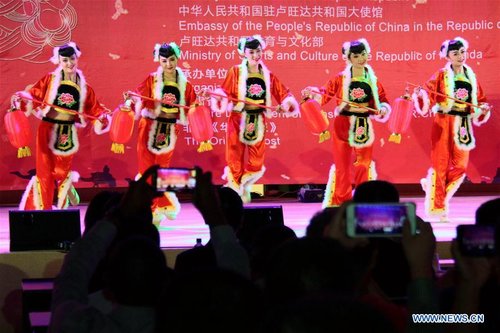 Chinese dancers perform during the "Happy Chinese New Year" gala in Kigali, Rwanda, on Feb. 9, 2018. Featuring the regional characteristics of Gansu and Chinese cultural elements, the gala consisted of Chinese operas including Chinese national intangible cultural heritage the Long Opera, songs, dances, acrobatics and folk music. [Xinhua]
As we enter the Year of the Dog, there is no better way to start this article than to quote what Ambassador Liu Xiaoming said during the "Icebreaker" Chinese New Year Dinner in 2018.
The Ambassador said, "In both China and Western nations, the dog is regarded as a symbol of loyalty, courage, good luck and help to others." The Ambassador further stated that the barking of the dog sounds similar to the Chinese word wang, which means prosperous.
For the Chinese people, "wang" is their hope for their nation and for the future. I concur with the ambassador, which is why I am saying there is no better word than "wang" to describe the extraordinary growth in China and the headway in China-Africa relations in the past years.
The year 2017 may have ended as a game changer for China-Africa relations with the focus on "creating new dynamism; sustainable, innovative and inclusive growth; and fostering a common shared development for the future".
Speaking of common shared development, when I look to the nearly 40 years of China's extraordinary achievement as the leading champion in development among developing nations, one word comes to mind: hopeful.
That best describes the world's expectations toward China. Personally, I believe that the respect for China includes elements of aspiring toward a developed nation.
Although China is still a developing nation, this strong nation has built an economy that guarantees the lives of its citizens, winning recognition for its success, and perhaps this has given the world reason to look to China with hope.
I believe that was how Dr. Hodan Osman Abdi, the executive director of the Center for East African Studies at the Institute of African Studies at Zhejiang Normal University, was thinking when she wrote the theme song in the first co-produced documentary of Africans in Yiwu by a transnational team from China and Africa, telling the story of incorporating dreams, joy, love, vision, strength and shared common prosperity into international relations.
In terms of China-Africa relations, Abdi was trying to show how Africa's and China's dreams can be intertwined to achieve common development through common efforts. The Chinese experience must inspire African nations to do more so as to attain the goal of a prosperous, peaceful and united Africa.
The Chinese experience made it clear that there is nothing impossible under the sun. The Chinese experience shows that it is possible for African nations to convert their rich minerals and natural resources into development advantages and attain the "African Dream" in a shorter period if good governance is applied, because one of the factors that led to China's economic transformation was governmental poverty alleviation policies supported by good governance.
For most African nations, China's experiences in development are inspiring and deserve to be emulated in terms of governance of national affairs. The China-Africa exchange on governing experiences should be contextualized in this historical background.
As a result, African nations hope that when they move along with China, they would be on the correct track to learn from China's experience in terms of good governance, poverty reduction and development gained during the nearly 40 years of reform and opening-up, in order to achieve the "African Dream" of poverty alleviation as well as economic and sustainable development, which has been pursued since African nations first started to win their independence. Sharing development experiences with Africa has become a goal for enterprises, government and Chinese society.
China and Africa consider each other as opportunities for development and as an important fulcrum for their external strategies. Africa's development needs China, and China's development also needs Africa.
Generally, Africans do not see China's development as a threat. The Chinese Dream for the Chinese people is to attain prosperity for the nation, national rejuvenation and happiness for the Chinese people, and the "African Dream" for African people is to attain poverty alleviation and development. What this means is that both parties can support each other to attain a common development goal.
Notably, the "American Dream" and Chinese Dream have become the most important two terms, for they reflect the culture of America and China, the two leading powers in the world. The Chinese Dream was raised in order to attain the greatest rejuvenation of the Chinese people.
Just like the "American Dream", the Chinese Dream has attracted much attention since its inception and numerous articles have been written to analyze the concept of the Chinese Dream both at home and abroad, such as The Chinese Dream in Western Eyes and Potential of the Chinese Dream.
On a personal level, the Chinese Dream is real for me and more attainable than other Western ideals and practices of trying to fill your pot with gold. China is more of a land of opportunity, but the key is patience.
The "American Dream" is overshadowed by the uniqueness of creating your own version of the Chinese Dream. The "American Dream" is all about a place that provides you with things, whereas in China it is a place where I can gather things to create what I am looking for.
African nations need to put in place the right policies with long-standing commitment to capturing the opportunity China is offering, because win-win cooperation between China and Africa could help unleash African economic potential.
The Chinese Dream conjures a vision of collective attainment and espouses similar goals that African nations are striving to reach: economic expansion, poverty reduction and the realization of sustainable development.
China has become an important export destination for Africa and its rising domestic consumption augurs well for Africa as the continent could sustain demand for African exports.
Africa also stands to profit significantly from the augmented trade relations with China as a gateway to other Asian markets. Africa is a land of strategic opportunities for those who are keenly interested in forging a win-win partnership, rather than a scene of what has been frequently referred to as a "destination for natural resource exploitation" for international investors.
Strategic cooperation between China and Africa will demystify the claim that the augmented engagement of emerging economies, such as China, in Africa is motivated by Africa's natural resources. Some of the African nations that are relatively the least endowed with natural resources are the major beneficiaries of Chinese investments and trade cooperation.
Under the Forum on China-Africa Cooperation-based on principles of equality, mutual trust, win-win partnership and two-way cultural exchanges-the China-Africa relationship will be equitable and sustainable in its long-term cumulative effects.
Furthermore, the Chinese Dream and the "African Dream" are both for peace. Since China and Africa have gone through imperialism and colonialism, both parties cherish peace as a valuable treasure and are keen to unswervingly pursue the path of peaceful development.
With common ideals, similar historical experiences and a shared need for development, Africa and China desire to pursue stability and peace in their dreams and add to the efforts of building a harmonious world of enduring peace and common prosperity.
Above all, the fusion of the Chinese Dream and the "African Dream" need not and must not be limited to the economic sphere.
The blending of the two also has rich cultural connotations. Certainly, in this period of high-speed information and globalization, only by enhancing the people-to-people relations that will pave the way for mutual understanding between China and Africa and by improving their exchanges and cooperation can China and Africa build a solid groundwork for the Chinese Dream and the "African Dream" as well as for sustainable China-Africa relations from generation to generation.
The author is the Executive Director of the Center for Nigerian Studies at the Institute of African Studies, Zhejiang Normal University.
(Source: China Daily)