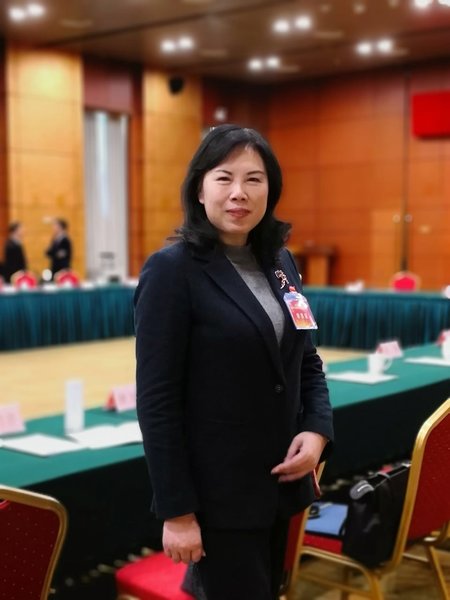 CPPCC member Xie Wenmin on the sidelines of the annual session of the national political advisory body in Beijing [fawan.com]
Several female lawmakers and political advisers recently shared their experiences on better protection of women's rights and interests at the annual "Two Sessions" meetings.
Chinese Premier Li Keqiang pledged in the government work report that China would press ahead with the cultivation of a positive social atmosphere and expects to give full respect and care to women, children, elderly people and those who are physically-impaired.
According to the deputies to the 13th National People's Congress (NPC) from Fujian, Guizhou and Tibet, local women have benefited from a noticeable greater access to political participation, business undertakings, and poverty alleviation over the past several years.
Nevertheless, many have still been plagued with lingering poverty, gender discrimination and other unfair treatments in their daily lives.
There is an urgent need for the nation, government departments and everyone else concerned to work together and come up with more targeted measures to constantly improve the situation.
Vice-President of Guizhou Women's Federation Yin Hongmei, who is also an NPC deputy, said her organization has often invited folk artisans to provide local women, especially those from poverty-stricken regions, with vocational training in relation to embroidery and other handicrafts under a charity scheme for the past several years.
So far, local beneficiaries of the charity project have set up over 1,000 relevant enterprises and cooperatives, whose turnovers have totaled 5 billion yuan (around U.S.$ 790 million). The annual income per capita of relevant practitioners has already surpassed 10,000 yuan (around U.S.$ 1,580).
Guo Jingjing, an NPC deputy and employee from a Zhangzhou-based enterprise in Fujian, suggested that legislative departments should step up their efforts in the institutional protection of women's legal rights and interests in their workplaces. She suggested that employers should provide more care and assistance to pregnant employees and female workers with newborns.
Gao Jie, a member of the 13th National Committee of the Chinese People's Political Consultative Conference (CPPCC) and Deputy Mayor of Wei'nan in Northwest China's Shaanxi Province, explained that the city has successfully mobilized local village officials and grassroots Party committees to help impoverished rural women share benefits of industrial development through multiple means of assistance.
Political adviser Xie Wenmin, who is an outstanding lawyer from central China's Hubei Province, cited an article of China's marriage law to assist to an underprivileged woman, who was otherwise facing a giant debt accumulated by her husband due to gambling.
The specifications of Article 24 ruled that the debt incurred by a person from an involvement in gambling and other illegal activities during the period of marriage should not be shared and paid off by his or her spouse.
For her part, Yan Huiying, another CPPCC member, called on the public to give a full recognition and appreciation to women's fulfillment in household duties and to build an advanced gender culture with an emphasis upon the reduction of gender-based prejudice and violence.
(Source: People's Daily/Translated and edited by Women of China)