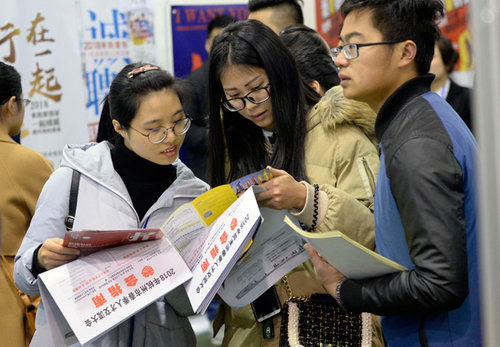 Job seekers check recruitment information at a job fair held in Hangzhou, capital of Zhejiang province. [China Daily/Shi Jianxue]
About 8.2 million college students will graduate in China this year, a record high. A survey of graduating students found that 60 percent want to work in second-tier cities, while 30 percent are hoping to work in first-tier cities, with the remaining 10 percent planning to work in third-and fourth-tier cities. Guangming Daily comments:
The results of the survey should be a soothing balm to the mayors of some second-tier cities, who have been racking their brains over ways to attract educated young people.
However, the survey, which also explains the reasons behind the young people's choices, should also shatter any sense of complacency, as it is not the opportunities, career development prospects or living environments of second-and third-tier cities that appeals to young people, but the comparatively lower housing prices in smaller cities.
Cheaper housing outweighs all the other three aforementioned factors when fresh graduates are making their job choices.
It means that once housing prices in big cities such as Beijing, Shanghai and Shenzhen, where China's best companies, schools and hospitals are concentrated, start falling, which has already been happening over the past six months, or their governments begin to assign more subsidized housing and public rental accommodation to meet the needs of more newcomers, there will be a predictable brain drain from smaller cities.
The first-tier cities have become more prudent about the size of their populations, and they have become more picky in selecting only the badly-needed talents, and their high housing prices have, to some extent, become a screening threshold.
The second-tier cities should realize that if they only count on providing cheaper houses to attract young people, something that has already evolved into a fierce competition among some of them, the talents they finally secure will mostly be second-tier ones as well, as the top ones still value opportunities more than simply a place to live.
(Source: China Daily)