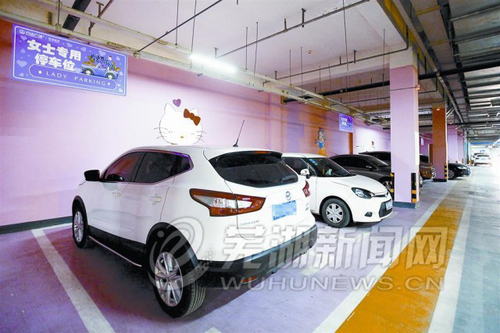 Female-only parking spaces in Wuhu [Xinhua]
The appearance of "women-only" parking spaces in an underground car park of a mall in Wuhu, east China's Anhui Province, inspired heated debate recently over gender issues.
There are around 12 female parking spaces at the site, and they feature prominent, wider-than-usual spacing. Two female parking spaces take up the same space as three regular ones.
They are eye-catching, also, not just for the sign above them that reads "Special parking spaces for women" but also because the wall behind them has been painted bright pink.
According to the property department in the mall, the parking spaces were installed some time this year before International Women's Day (March 8).
Speaking about the original motivation for setting up the spaces, the head of the property department said,"We are actually learning from practices seen in Japan, and consider it humanistic and aesthetically appealing."
He also said the parking spaces are in an area which is closest to the supermarket, also for female customers' convenience.
Nonetheless, the action has still caused heated debate. Supporters praised it by saying,"It is a way of caring for the women who are not good at driving."
However, the others criticized it as special treatment.
One woman surname Liu, who has had a driving license for seven years held a negative opinion on these parking spaces,"I think it's a kind of gender discrimination. After all, 'female driver' is not a commendatory word on the internet nowadays."
A woman surname Chen expressed an opposite view. She insisted that setting up female-only parking spaces was respectful for women."It is just like International Women's Day and 'ladies first'; it shows respect and care for women."
She said from a physical point of view, compared to men, women are indeed"weaker" in certain aspects.
But even if women are considered weak, it does not mean that is discrimination, Chen said. These are two different concepts. She is more willing to regard female parking spaces as a kind of welfare and right for women.
Someone also worried that although female parking spaces are provided, the rule is not enforced. Therefore, it is also possible for men to use them. "So, will female parking spaces be things of little value?"
A netizen called Fan suggested that it would be better to change the female parking spaces to"novice" parking spaces.
In fact, the exclusive parking spaces for women are not new. There have been women's parking spaces in South Korea and Germany.
In addition, there are women parking spaces in the Chinese cities of Xi'an, Shanghai and Kunming, and Zhejiang Province. Similar to the situation in Wuhu, it has also led to heated discussion among the public.
According to Ge Yi, an expert from the 4th People's Hospital of Wuhu, be it supportive or questioning, it is actually normal. The reasons for this disagreement are mainly cognitive differences.
(Source: Xinhua/Translated and edited by Women of China)