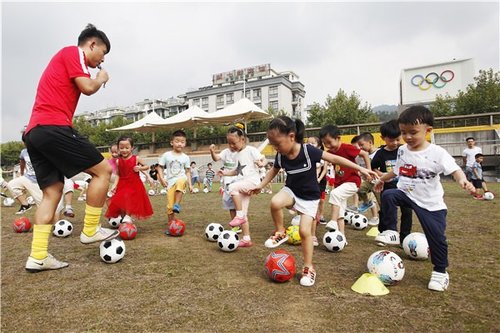 Kindergarten kids in Tonglu county, Zhejiang province enjoy their first soccer lesson under the guidance of a professional coach in September. [China Daily/Xu Junyong]
Extracurricular classes or private supplementary tutoring is growing around the world particularly in China. Normally, in major Chinese cities, children have two or three extra lessons outside school. Parents in China pay much for their children to be tutored as they may feel inadequate if they do not help their child succeed in every way. However, it does pile economic pressure on parents and increase study burden of pupils. Are extracurricular classes necessary for students in China? Forum readers share their opinions.
Seneca (Expat in China)
Many of the parents of these pupils lack higher education themselves. They have too high ambitions for their own children. They are not intelligent enough to distinguish between chaff and real education. They have a purely quantitative idea of education. Their children will be disadvantaged in real life with this pseudo-education imposed on them by their parents.
Huaqiao (China)
Supplementary lessons must be catered to the child's talent. Don't just follow the crowd blindly. Be specific and this will benefit the child better and will not waste time and money. In the future, academic qualification may not be as important as skills-based or specific knowledge-based education. What parents must do is to find out what the child is talented in and help the child develop this talent. With natural talent, one is able to perform better and keep a job in the future.
Boilermaker21 (US)
Frankly, I am shocked at how physically weak many Chinese kids are. They are very intelligent, but they can't walk 400 meters without complaining about how tired they feel. I think the kids today are pretty spoiled. I am sure that 30 years ago, these kids would have to walk or ride a bike everywhere.
MisterPanda (France)
Extracurricular activities, yes, but only if the child shows interest in it (but you should not let the child drop the class after one or two lessons if he/she said he/she wants to attend, then he/she has to understand the meaning of commitment).
Dracarys (US)
It's part of some teacher's responsibility too and parents fears that their child is learning less than other child who sign up for extracurricular lessons.
(Source: China Daily)